The home of civil rights leader Medgar Evers officially became part of the National Park Service (NPS) on Thursday.
Nearly 60 years after the assassination of Evers, leaders gathered with representatives from the Evers family to mark the Jackson residence as a national monument. The event, which is the first of many across a weekend-long commemoration of Evers' wrongful death, was also used to celebrate recent preservation and protection efforts at the property.
"A home is so much more than a shelter, it's a place where memories are made. This home, the Evers home, is where our family lived, laughed, and loved. Tragically, on June 12, 1963, history was born out of tragedy in this home," said Reena Evers-Everette, daughter of Medgar and Myrlie Evers. "Now, the Medgar and Myrlie Evers Home will stand as a testimony to the love, strength, and resilience of our family and Medgar and Myrlie Evers, who worked to ensure all Black people in Mississippi and beyond had a place to call home."
"The Evers family thanks the National Park Service for enshrining the Evers home as a national monument, ensuring future generations will learn from our past in order to move forward toward a more empowering and equitable future."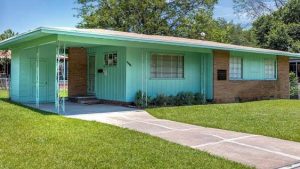 The NPS and the Trust for Public Land (TPL) have worked jointly to support a variety of projects at the Evers home, including the development of an outdoor education space and a garden area adjacent to the home.
Upon completion, the site will include a covered program space, a walking path, raised bed flower gardens, and educational exhibits. Additionally, a fence has been installed around the back of the home to provide privacy for neighbors of the site.
"TPL is proud to be a part of a growing movement dedicated to working with communities across the country to preserve sites commemorating the Black experience," TPL President and CEO Diane Regas said. "By protecting and restoring places of incredible historical significance like the home of Medgar and Myrlie Evers, we ensure permanent gathering spaces to reflect upon our shared national heritage."
Events honoring Evers will continue June 9-12 throughout Mississippi's capital city. A full schedule can be found here.
Exhibit honoring civil rights leader Medgar Evers to open at Eudora Welty House
Stay up to date with all of Mississippi's latest news by signing up for our free newsletter here. 
Copyright 2023 SuperTalk Mississippi Media. All rights reserved.