As Mississippi hospitals faced an overwhelming surge of patients due to the rise of the Delta variant of COVID-19, staffing shortages across the state came into focus. 
While field hospitals, like the two at UMMC, were set up to ease capacity concerns, there were beds throughout the healthcare system that simply couldn't be staffed. To that end, the Mississippi Emergency Management Agency received personnel requests from facilities around the state, and as of Thursday, 81% of those requests have now been filled by vendors and the federal government. 
A breakdown provided by MEMA shows that a total of 923 additional healthcare workers have arrived in Mississippi since late August. 
Physicians: 9
Med Surge Nurses: 313
Telemetry Nurses: 83
ICU Nurses: 237
ER Nurses: 45
Nurse Practitioner/CRNA: 8
LPN: 11
Respiratory Therapists: 203
Medics: 14
According to MEMA, the weekly cost for this personnel is roughly $11,000,000. FEMA obligated the state of Mississippi $123,094,216.39, which is 50% of the expedited request for medical staffing reimbursement.
Since hitting a peak of over 1,600 hospitalized patients, the healthcare system has seen a steady decline since the start of September.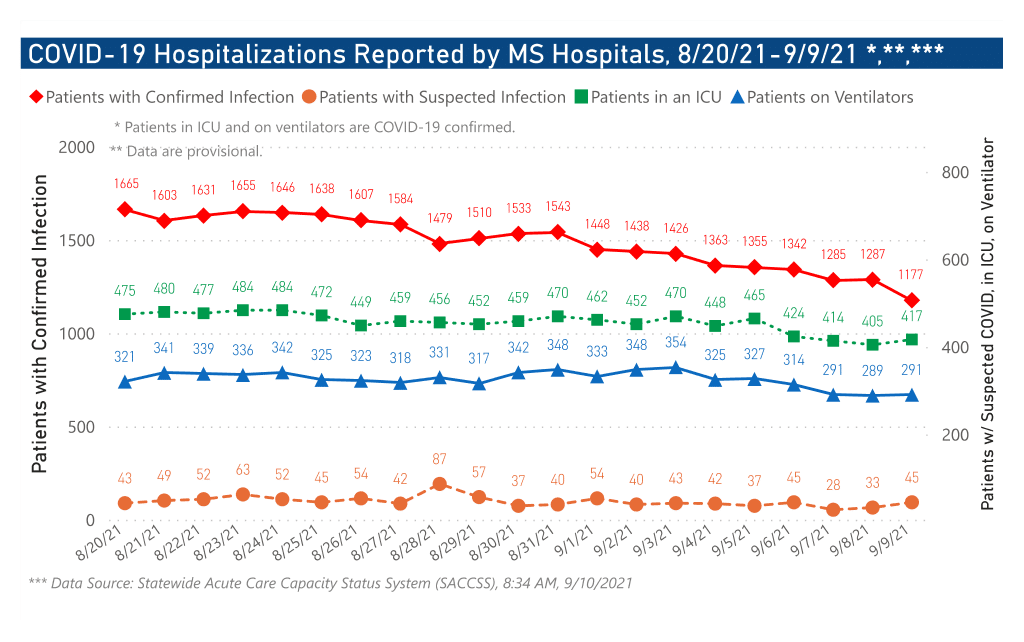 One of the field hospitals at UMMC, set up by Samaritan's Purse, has been demobilized and all patients were were moved into UMMC hospitals earlier this week.
It has been estimated that Mississippi is operating with 2,000 less healthcare workers than it was in the early stages of the pandemic. Some have left the profession while others have left the state due to neighboring states offering higher salaries.
Stay up to date with all of Mississippi's latest news by signing up for our free newsletter here. 
Copyright 2023 SuperTalk Mississippi Media. All rights reserved.