The National Weather Service is predicting the Pearl River at Jackson to crest at 38 feet by Sunday.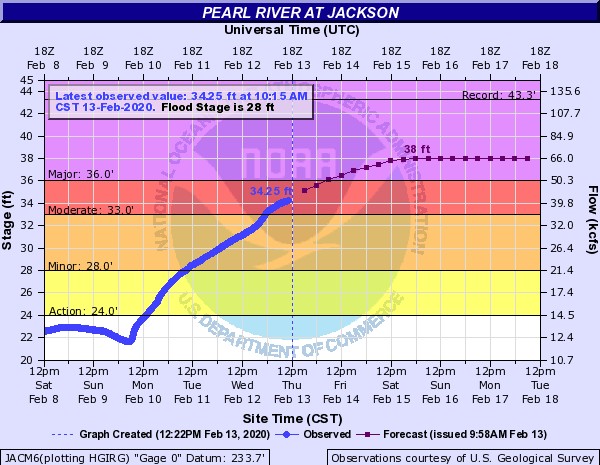 According to the Mississippi Emergency Management Agency (MEMA), at 38 feet, homes and businesses in the Byram, Flowood, Jackson, and north Richland areas will be affected by floodwaters. This would also be the third-highest crest in recorded history.
In the link below, you can find an interactive inundation map to see where the waters from this flood could reach.
NOAA Interactive Flood Inundation Map
Also, here is an estimated amount of structures that could be affected by the flooding.
Hinds: 1,925
Rankin: 461
Madison: 31
Total Structures: 2,417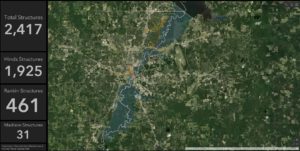 City, county, and state officials encourage those who live in the affected areas to evacuate as soon as possible.
The City of Jackson is making sandbags available. The address is 4225 Michael Avalon Street.
Also, the City of Jackson is opening a long-term shelter. That site is the Police Training Academy at 3000 Saint Charles Street.
Weather officials are not certain how long it will take for floodwaters to recede. There is more rain forecasted to impact the area beginning Sunday.
Listed below are the streets that could be affected:
CLEARBROOK DRIVE
BARBARA ROAD
STOKES ROBERTSON ROAD
TWIN LAKES CIRCLE
LAKELAND TERRACE
LELIA DRIVE
LAKESIDE DRIVE
GREENBRIAR DRIVE
PEBBLE LANE
EASTOVER DRIVE
RIDGEWOOD ROAD
US HIGHWAY 51
E SILAS BROWN STREET
S WEST STREET
CHANNEL
MCDOWELL ROAD
E PEARL STREET
LAKE CIRCLE
S LAMAR STREET
US HIGHWAY 80
GREENWOOD AVE
SHEFFIELD DRIVE
FACTORY STREET
E SEDGWICK COURT
PICKFORD LANE
DOVER PLACE
THACKERY CIRCLE
CLUBVIEW DRIVE
ST ANDREWS DRIVE
CANTON CLUB CIRCLE
SOUTHWOOD ROAD
PLANTATION BLVD
GALLILEE STREET
JULIENNE STREET
NICHOLS AVE
GUM STREET
RIVERWOOD CIRCLE
S ROACH STREET
SIDNEY STREET
OFFUTT STREET
MANOR DRIVE
HUDSON STREET
HINDS STREET
MARTIN STREET
ALTON STREET
S PRESIDENT STREET
PINE PT DRIVE
E PASCAGOULA STREET
SPROLES STREET
SEDGWICK DRIVE
RADCLIFFE STREET
AMHURST STREET
ARGYLE STREET
ROMANY DRIVE
MEADOW OAKS DRIVE
BEECHCREST COURT
BEECHCREST DRIVE
DENDRON DRIVE
ROLLINGWOOD DRIVE
HARROW DRIVE
BEASLEY STREET
MCNUTT STREET
S FARISH STREET
SOUTH BROOK DRIVE
MELROSE DRIVE
VALLEY VISTA DRIVE
PARKWAY DRIVE
ALLSTATE DRIVE
SUN DRIVE
YUCCA DRIVE
WESTBROOK ROAD
RIVERWOOD DRIVE
MANHATTAN ROAD
W SOUTH STREET
E SOUTH STREET
COURT STREET
SUNNYVALE DRIVE
SANDLEWOOD PLACE
EDMAR PLACE
CAVALIER DRIVE
CANTERBURY COURT
EXIT 45B
SOUTHERLAND STREET
RIVER HILLS DRIVE
HIGHLAND DRIVE
RIVIERA DRIVE
VISTA COURT
CHELSEA COURT
RIVER ROAD
DEER TRAIL
CYPRESS TRAIL
RIVER COVE
RIVER GLEN
FOXBORO DRIVE
W SEDGWICK COURT
UNKNOWN  RD
METER ROAD
S STATE STREET
E RANKIN STREET
INTERSTATE 20 FRONTAGE ROAD
EXIT TO HIGHWAY 80
RIDGEWOOD RD
CRANE RIDGE DRIVE
DUNBARTON DRIVE
UNKNOWN RD
EXIT 45
EXIT TO US-80
SIWELL ROAD
CONGRESS STREET
LAKELAND TER
GALLATIN STREET
S GALLATIN STREET
OLD CANTON ROAD
OLD BYRAM ROAD
GARNER ROAD
CARTERS GROVE
NORTHTOWN DRIVE
BRIGHTON DRIVE
O B CURTIS DRIVE
CONESTOGA ROAD
PINE TRAIL DRIVE
SHADOW LAKE DRIVE
SHADY GLEN ROAD
BAYSHORE DRIVE
HARBOR LAKE ROAD
LAKEVIEW COVE
SHADY BROOK ROAD
FOREST GROVE DRIVE
HARBOR PINES DRIVE
LAKEVIEW ROAD
FOOD SERVICE DRIVE
MANGUM DRIVE
WALKER CIRCLE
SWINGING BRIDGE ROAD
FRENCHS STORE ROAD
BUD STREET
NEELY ROAD
CEDAR LANE
SPILLWAY ROAD
MS HIGHWAY 149
SLOAN STREET
REDBIRD LANE
WYNN ST
JONES ST
MS HIGHWAY 468
RONNIE STREET
OLD BRANDON ROAD
FLORENCE BYRAM ROAD
ROBIN LANE
JACQUELYN DRIVE
LIBERTY ROAD
BECK STREET
QUINN DRIVE
RIVERVIEW DRIVE
CYPRESS BRAKE
MCBRIDE STREET
WOODGREEN COVE
STRICKLAND DRIVE
EVERGREEN WAY
LAURELWOOD DRIVE
RESERVOIR PARK RD
OLD HIGHWAY 49 ROAD
RESERVOIR PARK DRIVE