Jackson's main water treatment facility is functioning once again following over two weeks of non-stop efforts to restore clean drinking water at the O.B. Curtis Water Plant. Now, the Incident Command Center at the Mississippi Management Agency (MEMA) has released that the amount spent to put the treatment plant back online cost a little over $191,000.
According to a report from Y'all Politics, MEMA spent approximately $191,530.82 on repairs and equipment at the plant from August 30 to September 15, with the additional cost of increased labor and contracting totaling $1,158,297.26. In all, the amount spent to make numerous repairs at the water treatment plant cost $1,349,828.08.
Although a hefty price tag for Jackson's 150,000 residents, the overall total needed to bring the water facility back online pales in comparison to estimated budget requested by the city in 2021.
Included in a presentation from the Public Works Department was a request for over $61,000,000 in funds for 2021 alone to repair and maintain the water and sewage system in Mississippi's capital city. An amount of $5,562,871.00 was said to be needed for the O.B. Curtis Water Plant along with $3,901,346.00 to fix the city's water.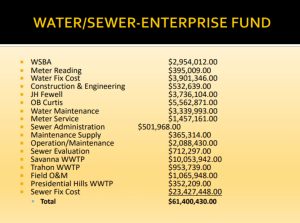 As of now, long-term repairs are still being made to the water treatment facility despite the lifting of the boil water notice on Thursday. Additional funding to resolve the city's remaining water and sewage issues have been allocated from remaining American Rescue Plan Act (ARPA) funds by the Hinds County supervisors and Jackson City Council.
Stay up to date with all of Mississippi's latest news by signing up for our free newsletter here. 
Copyright 2023 SuperTalk Mississippi Media. All rights reserved.