This week, the Mississippi Emergency Management Agency (MEMA), in partnership with the United Methodist Committee on Relief, served have served more than a hundred Mississippians at Disaster Assistance Centers.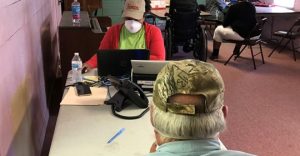 The centers offer eligible residents in Jones, Jefferson Davis, and Covington counties the chance to apply for FEMA Individual Assistance.
Week One resulted in 188 disaster survivor consultations, 119 FEMA applications, and four SBA applications.
In total, 1,156 Mississippians, in the three federally declared disaster counties, have applied for individual assistance. At this time, $1,405,923.37 has been approved for disaster survivors in Jones, Jefferson Davis, and Covington Counties.
There are four disaster assistance locations:
Covington County: Seminary United Methodist Church, 208 Pine Street, Seminary, MS 39479
Jefferson Davis County: LL Roberts United Methodist Church, 247 General Robert E Blount, Bassfield, MS 39421
Jones County: Gitano United Methodist Church, #4 Spillway Road, Soso, MS 39480
Jones County: Antioch United Methodist Church, 845 Lower Myrick Road, Laurel, MS 39443
(Antioch location will close after Saturday, May 2, 2020)
The Disaster Assistance Centers are open: Monday- Friday 8 a.m.- 5 p.m. and Saturday 8 a.m. – 12 p.m.
CLOSED SUNDAY
Stay up to date with all of Mississippi's latest news by signing up for our free newsletter here. 
Copyright 2023 SuperTalk Mississippi Media. All rights reserved.