Coming off Veteran's Day, Ole Miss has been named the No. 5 university nationally and No. 1 in the Southeastern Conference in the Military Times' annual "Best for Vets" ranking.
Military Times surveyed 325 colleges and universities across the nation for their resources, opportunities, and success rates for veterans. Ole Miss has previously ranked in the top 25 universities, but this is the first time the university ranked first among its peers
"The University of Mississippi has a deep commitment to our student veterans and our nation's military. Since the first student veteran organization was established on our campus in 1920, we have worked to create an atmosphere that fosters success after service for over 1,900 military-connected students enrolled today," Chancellor Glenn Boyce said.
"This ranking confirms our position as the pinnacle of the Southeastern Conference, and it sets an example for the country to strive toward in serving the 'Next Greatest Generation.'"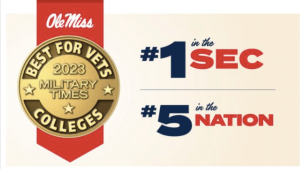 According to assistant director of the UM Office of Veteran and Military Services Andrew Newby, Military Times' ranking has become a metric by which potential students and their families assess a university's military readiness.
"It's a trusted source for them because this publication is on every base around the globe," Newby said. "When service members go to a base exchange to get the things they need, this publication is there. When they leave active service, they recognize this outlet and will trust what it recommends."
The Office of Veteran and Military Services, which began in 2013 and moved to the George Street House in 2021, has become a hub for veterans on campus.
The house's central location on campus allows veterans and military-connected students to file to access GI Bill and VA benefits. It also offers a place to study, eat, and apply for scholarships and military transfer credits, all in one place.
A veteran treatment team — a program that allows student veterans to seek health care on campus instead of having to drive hours to the nearest VA facility — was instituted on campus in 2018. This saves military-connected students time and money and makes health care more accessible for veterans.
Newby says Ole Miss will continue to strive to meet the needs of veterans and invest more resources into military-connected students.
Stay up to date with all of Mississippi's latest news by signing up for our free newsletter here. 
Copyright 2023 SuperTalk Mississippi Media. All rights reserved.