One of Mississippi Aquarium's endangered Kemp's ridley sea turtles is expected to be released at 8:00 a.m. on Friday, September 23 on the beach in front of Edgewater Mall in Biloxi.
Fog, one of the last remaining rehabilitated Kemp's ridleys at the aquarium, was first rescued by the Massachusetts Audubon Wellfleet Bay Wildlife Sanctuary's staff and volunteers in late 2020.
He was then hospitalized at New England Aquarium's sea turtle hospital in Quincy, Massachusetts, on December 11, 2020, after contracting pneumonia. The pneumonia was due to the bacteria, Mycobacterium chelonae, a difficult-to-treat pathogen that is common in aquatic animals.
In October 2021, Fog was arranged by New England Aquarium staff to be transported to Gulfport, Mississippi, through the nonprofit group Turtles Fly Too. There, he was placed under the care of the veterinary team at Mississippi Aquarium, where he would remain in rehabilitation for almost a year.
During his time at the aquarium, Fog underwent a lung biopsy procedure with the help of Dr. Charles Innis of New England Aquarium.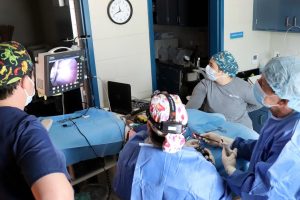 "Fog had severe pneumonia when he arrived at our hospital in December 2020," Innis said. "We performed several procedures to determine that his condition was caused by an especially difficult-to-treat bacteria, which allowed us to adjust his treatment and put him on the path to recovery. After Fog's transfer to Mississippi Aquarium, we collaborated closely to prove that the stubborn infection had finally been cleared nearly two years later. This is a fantastic success story."
Fog is one of the over 65 endangered Kemp's ridley sea turtles released by Mississippi Aquarium since its opening in August 2020.
Stay up to date with all of Mississippi's latest news by signing up for our free newsletter here. 
Copyright 2023 SuperTalk Mississippi Media. All rights reserved.