Mississippi Aquarium is set to unveil over $4 million in renovations made to the Changing Tides building this week, with the new expansion totaling over 7,000 square feet.
According to the aquarium, the newly remodeled area will house 23 new habitats that are designed to mimic the environs of a Kelp Forest, Tropical Jungle, and Warm Water Oceans.
Tito, a two-toed sloth will share his new space with Peli, a three-banded armadillo. Attendees will also be able to get up close and personal with a giant Pacific octopus with a tank that includes a mini tunnel under the exhibit.
Over 130 different species including sea horses, a tarantula, snakes, lizards, hissing cockroaches, and poison dart frogs will be on display throughout the expanded area.
Eric Gallichant with the aquarium explained during an interview on Good Things with Rebecca Turner that one of the new habitats will include the hissing cockroach from Madagascar.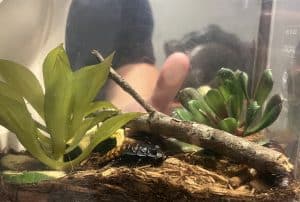 "Their main job even in the wild is to eat all of that decomposing organic material, so they eat the leaves and stuff like that," Gallichant stated. "When they're in our care, we are giving them vegetables like zucchini and squash — stuff like that — and a little bit of water. That's about it."
Gallichant added that the aquarium is also planning to construct other habitats for animals featured in encounter events throughout the coming years.
"The penguin encounter is one of the big ones that people really enjoy doing. It is an add-on where you get to experience the penguin. They'll have one of the animal care team will come and give you a nice presentation about it, usually in a private room," Gallichant said. "We have the dolphin encounter, kind of similar where you get to go poolside with the dolphins and interact. They'll show you how they do some of the training and some of the behaviors they taught them."
In addition to the soon-to-be-unveiled space, the aquarium has announced the introduction of a free annual pass for children between the ages of three and five. The pass will be available for a limited time and will include unlimited visits until the child's sixth birthday.
Parents and guardians can currently register their children for the pre-K Free Pass on the aquarium's website. A copy or photo of a birth certificate or passport will be required to verify the child's age when activating the pass at the aquarium.
All adult, youth, senior, and military annual passes are also on sale for the lowest price of the year. Annual passes will include several new amenities, including free parking in the Coastal Transportation Authority garage.
Continue watching the full interview below.
Stay up to date with all of Mississippi's latest news by signing up for our free newsletter here. 
Copyright 2023 SuperTalk Mississippi Media. All rights reserved.