A Mississippi native and U.S. Army veteran has been honored with a Purple Heart medal for wounds he received in action on September 11, 2006, in Iraq.
Retired Army Maj. Victor F. Hogan, a Purvis native, was presented the medal by U.S. Senator Cindy Hyde-Smith. The honor is given to those who were either wounded or killed while serving.
An Army captain at the time, Hogan, was riding in a Stryker when the up-armored vehicle was struck by an improvised explosive device (IED), launching the 40,000-pound machine a few feet into the air and tossing it to the opposite side of the road.
Hogan was struck by fragments from the blast and was flipped 180 degrees inside the vehicle, striking his head and losing consciousness for several minutes, resulting in a traumatic brain injury (TBI).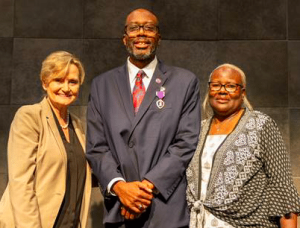 At the time of his injury, the military had little understanding of the effects of blast injuries, and the Purple Heart medal was not authorized for TBIs. However, upon further research and medical record reviews of TBI victims, the Department of Defense authorized the award in 2011 for TBIs incurred during combat operations.
"I regret that the process of getting this award was long and difficult, but I also see that this effort can stand as an example of the same strength, resilience, and tenacity Victor Hogan brought to his service in the Army," Hyde-Smith stated. "It is a privilege and an honor to stand here today to express my deepest gratitude.  May this presentation inspire us to continue supporting those who risk everything for the preservation of liberty."
Hogan's award was approved by the Army Board for Correction of Military Records in April after years of records reviews and evidence gathering.
Stay up to date with all of Mississippi's latest news by signing up for our free newsletter here. 
Copyright 2023 SuperTalk Mississippi Media. All rights reserved.