In wake of the string of deadly tornadoes that hit Kentucky last week, one Mississippi couple is trying to make sure Kentuckians still have a Merry Christmas this year.
Jennifer Brignac and Johnny Cook, owners of Jo's Cafe in Tupelo, will be taking their food truck to Murray, Kentucky in order to feed nearly 400 first responders and victims.
"We've had a food truck now for about four years, and it was founded on the mission that it would be used for such events," Brignac said in a recent appearance on Good Things with Rebecca Turner.
Brignac and Cook's experience living in the small coastal town of Kiln when Hurricane Katrina struck Mississippi in 2005 helped them decide that the 19,171-person town of Murray would be the perfect spot to feed people this Christmas.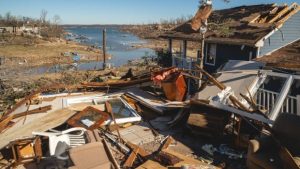 "We remember what it felt like with Hurricane Katrina," Brignac continued. "When you're isolated like that and feel alone and you don't know when life is going to be normal again, it's just really refreshing and it's great to know people are out there caring about you."
Even though the cooking has already started as the couple plans to hit the road this Friday, Brignac and Cook are asking their fellow Mississippians for handwritten cards that include either a gift card or cash. They plan to give out a card with every meal.
Cards can be dropped off at Jo's Cafe at 825 West Jefferson Street in Tupelo. The food truck's menu will include butter-infused deep-fried turkey, chicken and dressing, vegetables, rolls, and dessert.
Stay up to date with all of Mississippi's latest news by signing up for our free newsletter here. 
Copyright 2023 SuperTalk Mississippi Media. All rights reserved.