The back-and-forth over whether or not to finish the Congress-approved Yazoo Backwater Pumps Project continued this week, as several members of Mississippi's congressional delegation participated in a federal hearing on the matter Wednesday in Vicksburg and Rolling Fork.
Mississippi Senators Roger Wicker (R.-Miss) and Cindy Hyde-Smith (R-Miss.) continue to push for the completion of the project, stressing the need for the federal government to construct a pumping station to successfully deliver effective flood protection to the Yazoo Backwater Area of the South Delta.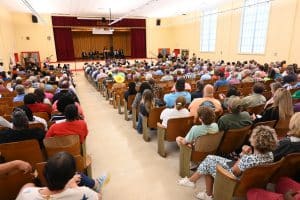 Hyde-Smith was among members of the congressional delegation who participated in presentations on Wednesday to an Interagency Working Group, which was formed after the Biden administration canceled work on the Yazoo Backwater Area Pumps Project in November 2021.
"As federal agencies and special interest groups continue to debate pumps vs. no pumps, it seems forgotten the United States Congress decided that a long time ago," Hyde-Smith said. "The authorized Yazoo Backwater Area Project calls for an intricate system of flood control features—levees, floodgates, drainage channels, and pumping stations—to protect a nearly 1,500-square-mile area. That system cannot function without all of its parts. And clearly, it's not."
"The U.S. Army Corps of Engineers, one of the world's largest and most respected public engineering agencies, has studied the Yazoo Backwater Area Project for nearly four decades," the Senator added. "The Corps has not been able to identify any other practicable way to manage such enormous volumes of water, other than a pumping station."
Hank Burdine with the Mississippi Levee Commission was also in attendance.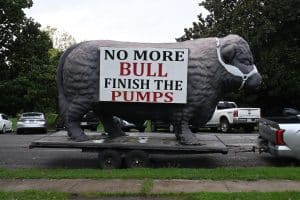 "The next step is this group goes back to Washington and they huddle up and they look at this new proposal by the Corps of Engineers. Hopefully, they throw politics out of this dadgum thing and they say 'Look, let's do what needs to be done,'" Burdine explained. "Let's don't put a band-aid on it and send these folks $1,500 checks. Let's go ahead and solve the problem, get these pumps going, and solve the problem from here on out."
Environmental Protection Agency (EPA) Administrator Michael Regan told Hyde-Smith in May that an interagency group would soon "agree on what we believe to be a legally sound and engineering-durable solution to the Yazoo pump issue."
White House Council on Environmental Quality (CEQ) Chair Brenda Mallory headed the federal contingent meeting in Vicksburg. The meeting also included national and regional officials from EPA, U.S. Army Corps of Engineers, U.S. Fish and Wildlife Service, Federal Emergency Management Agency, and National Weather Service.
Stay up to date with all of Mississippi's latest news by signing up for our free newsletter here. 
Copyright 2023 SuperTalk Mississippi Media. All rights reserved.