Mississippi has maintained gains in 4th-grade reading and math over the past decade but continues to fall short of meeting the national average in the recently released results of the 2022 National Assessment of Educational Progress (NAEP).
NAEP, also known as the Nation's Report Card, measures student performance in 4th-grade and 8th-grade reading and math in all 50 states and Washington, D.C.
Although the results from this year's NAEP assessment showed an overall decline in proficient scores across the nation since the start of the pandemic, Mississippi's statistics continue to fall several percentage points below the average while simultaneously decreasing throughout the past three years.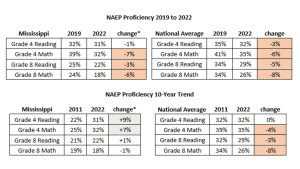 Since 2019, scores for 8th graders in Mississippi have dropped three points in reading and eight points in math, while 4th-grade test results in Mississippi have dropped seven points in math.
Although all scores decreased within the past few years, 8th graders are still falling behind the national average with an overall difference of seven points in reading and eight points in math. 4th graders, however, are left with a smaller gap than before, with the scores showing a three-point difference for math and one point for reading.
"While our state's scores are encouraging, they also underscore the need to press forward to ensure all students achieve proficiency," Interim State Superintendent of Education Dr. Kim Benton said. "In particular, we have more work to do in 8th-grade reading and math to bring student performance up to the national average and then continue to improve."
4th graders across the state also showed a notable increase in scores within the past 10 years, with overall results reporting an increase of nine points in reading and seven points in math.
Mississippi is one of two states with improved 4th-grade math scores over a decade and one of three states with gains in 4th-grade reading.
Stay up to date with all of Mississippi's latest news by signing up for our free newsletter here. 
Copyright 2023 SuperTalk Mississippi Media. All rights reserved.