The Mississippi-based film titled Mysterious Circumstance: The Death of Meriwether Lewis is set to begin screening at select theaters across the south this week, with several locations planning a Meet & Greet event prior to the showing.
During the film, viewers will be able to get a closer look at the events that transpired after the death of Meriwether Lewis of Lewis & Clark at a remote wilderness inn in 1809 through the sole witness's point of view.
The first showings of the movie will be on Friday at the Capri Theatre in Fondren, Cine Theatre in New Albany, and Coliseum Theatre in Corinth. Here's the total list of locations that will feature the film: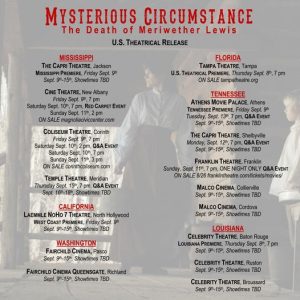 Writer and director Clark Richey explained in an interview on The Gallo Show that the movie centers around one of the many historic events that has occurred on Mississippi's Natchez Trace.
"That history of when we were the frontier is never talked about anymore," Richey stated. "It's like the Civil War era is now the starting point of Mississippi history, but really there was this settlement of Mississippi that occurred 50 years before that that really puts us in the same category with the Dodge cities and New Albany's out west."
Richey added that although this is his first film, he has a few more stories about the Natchez Trace in store for the big screen and hopes to start on his next movie soon.
To watch the full interview with Richey, continue watching below.
Stay up to date with all of Mississippi's latest news by signing up for our free newsletter here. 
Copyright 2023 SuperTalk Mississippi Media. All rights reserved.