Mississippi's graduation rate has hit an all-time high in state history for the 2021-22 school year, with the Mississippi Department of Education (MDE) releasing the statewide rate of 88.9 percent.
Rates are based on students who entered ninth grade for the first time during the 2018-19 school year. Among students with disabilities, the graduation rate increased to 67.1 percent, and the dropout rate was 19.3 percent.
A little under a decade ago, the statewide graduation rate was sitting at 74.5 percent, with the dropout rate totaling 13.9 percent.
Now, the current dropout rate is at nine percent, an almost five percent decrease from 2014.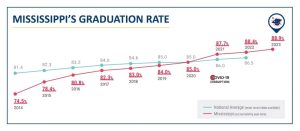 The current dropout rate figures reflect a point five percent increase from 2020-21 and a point nine percent increase among students with disabilities. The graduation rate does not include students who earn a GED or a certificate of completion or who are still enrolled in their fifth year of high school.
According to the MDE, there were fewer students in those categories in 2021-22 than the previous year, which attributed to the increased dropout rate.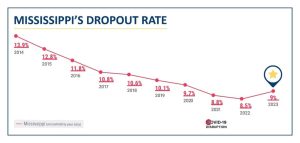 "Kudos to the teachers for stepping up and going back into the classroom, and kudos to the parents for playing an active role in their kids' education," Governor Tate Reeves said. "The all-time high graduation rate serves as another reminder that when someone says, 'Mississippi is 50th in education,' they just don't know what they're talking about."
Mississippi's graduation rate exceeds the latest U.S. rate of 86.5% from 2019-20 reported by the National Center for Education Statistics (NCES).
"I'm proud of Mississippi's students and educators for reaching another historic graduation rate milestone," Dr. Robert Taylor, state superintendent of education said. "The MDE will continue to provide essential services and support for all students to stay in school and graduate to achieve academic and career success."
MDE attributes the overall improvement of the graduation and dropout rates to the following programs:
Endorsements
High school students can earn an endorsement with their high school diploma. Starting in ninth grade, students choose whether they want to work toward a traditional diploma, or take additional classes to earn an academic, distinguished academic or career and technical education endorsement. Students can earn more than one endorsement.
Each diploma option prepares students to be successful after graduation, whether in the workforce, a career and technical training program, the military or college.
Students who earn an academic or distinguished academic diploma endorsement from a public high school automatically qualify for admission into any of the state's public universities. The endorsement opportunity was phased in during the 2018-19 school year and was fully implemented at the end of 2021-22.
Mississippi Early Warning System
The MDE developed this program in 2016 that offers guidance to school districts and schools to identify, support and monitor at-risk students in grades K-12. Intervention is provided for students who need assistance to reach graduation and be ready for college and career.
Pandemic disruptions have also had an impact on the graduation rate. Due to COVID-19, the passing requirements for high school Algebra I, English II, Biology and U.S. History assessments were waived in 2020-21. This will affect the graduation rate until all students who tested under the waivers graduate.
Click here to view the MDE's 2022 Graduation Rate Report.
Stay up to date with all of Mississippi's latest news by signing up for our free newsletter here. 
Copyright 2023 SuperTalk Mississippi Media. All rights reserved.
Stay up to date with all of Mississippi's latest news by signing up for our free newsletter here. 
Copyright 2023 SuperTalk Mississippi Media. All rights reserved.