Health officials are reporting Mississippi's 6th pediatric COVID-19-related death. 
While a location or exact age was not provided due to privacy concerns, State Epidemiologist Dr. Paul Byers confirmed that the child was between the ages of 1-5. This represents the third pediatric death since the surge caused by the Delta variant in Mississippi. 
Since the onset of the pandemic, MSDH Director of Communications Liz Sharlot explained that the pediatric deaths include three children between 11-17, one between 6-10 and two under the age of 5.
Dr. Byers shared that pediatric cases among 5-17-year-olds continue to rise more rapidly than any other age group.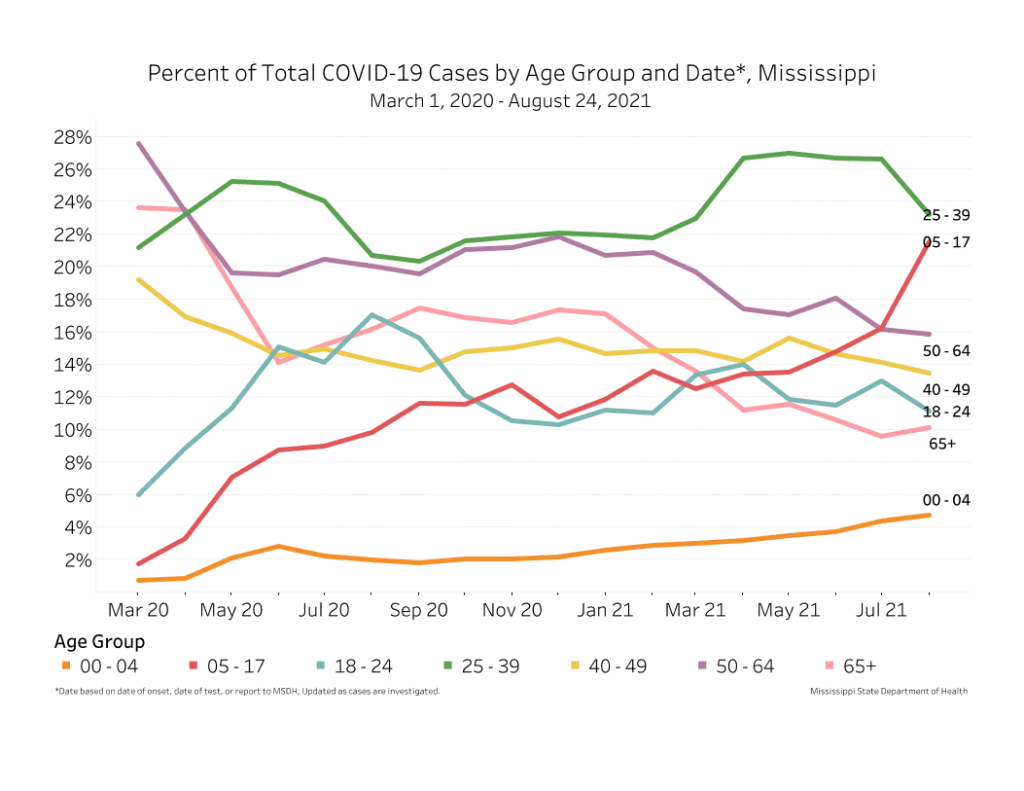 "With the increasing case numbers that were seeing in these age groups, we're going to continue to see some increased hospitalizations, and unfortunately, some children who are infected with COVID will have some more severe complications and require more intensive care," Dr. Byers said. 
As of this afternoon, seven children were in the ICU with three on a ventilator.
Overall, while Dr. Byers said that Mississippi may be approaching a potential plateau, there is still "a lot of transmission" occurring throughout the state. The higher case counts of recent weeks have translated into an increase in deaths. Tuesday's report included 111 deaths—the highest one day rise. A majority of the deaths were among the unvaccinated with Dr. Byers stating that some of those who passed away were in their 40s, 30s and 20s. 
Vaccinations are increasing in Mississippi. Over 81,000 doses were administered last week, including over 53,000 first doses. 
Director of Health Protection Jim Craig explained that, with the continued stress on the healthcare system, emergency services are also faces challenges leading to longer transfers and longer wait times. He went on to say that ambulance services are reporting staff shortages. In response, the state has requested 90 emergency medical technicians, 27 advanced EMTs and 142 paramedics from FEMA. Additional federal resources have begun to arrival at hospitals throughout Mississippi.
Dr. Byers once again warned against the use animal-doses of Ivermectin for COVID-19 treatment and urged those who test positive to get the monoclonal antibody treatment.
Stay up to date with all of Mississippi's latest news by signing up for our free newsletter here. 
Copyright 2023 SuperTalk Mississippi Media. All rights reserved.