As we officially enter the fifth wave of the pandemic, Mississippi health officials took some time on Wednesday to discuss the recent surge of COVID-19 cases.
State Epidemiologist Dr. Paul Byers, State Health Officer Dr. Thomas Dobbs, and MSDH Senior Deputy Jim Craig announced that as many as 10,000 cases have been reported in Mississippi over the last 10 days with 67 percent of new infections being the Omicron variant. According to the three medical leaders, Omicron is 50 percent more contagious than other strains.
"We are really in the fifth wave now," Byers said. "That's how fast we're seeing things grow. In addition to outbreaks, we're seeing an increased demand for testing." 
In order to deal with the large uptick in testing, the Mississippi State Department of Health (MSDH) is opening a new testing center at the Southaven Community Room in Desoto County, as well as expanding testing availability in the following 11 counties: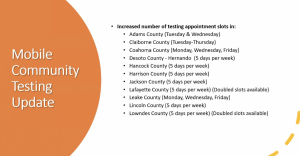 With New Year's Eve approaching, two testing sites in the Jackson Metro will be operating over the weekend. Trustmark Park in Pearl will be open for tests from 8 a.m. to noon on Saturday, while the farmers' market in Jackson will also be open for tests on New Year's Day.
As per usual, Dr. Dobbs encouraged unvaccinated Mississippians to get vaccinated. He also encouraged eligible individuals to get a booster shot as it has shown to provide 70 percent protection versus the Omicron variant.
Stay up to date with all of Mississippi's latest news by signing up for our free newsletter here. 
Copyright 2023 SuperTalk Mississippi Media. All rights reserved.