The high school football season in Mississippi has officially come to an end with the conclusion of the state championship games at Veterans-Memorial Stadium in Jackson. Below, you can check out a short recap of each game.
Friday: 
Noxubee County (10-1): 26 vs. Magee (11-0): 49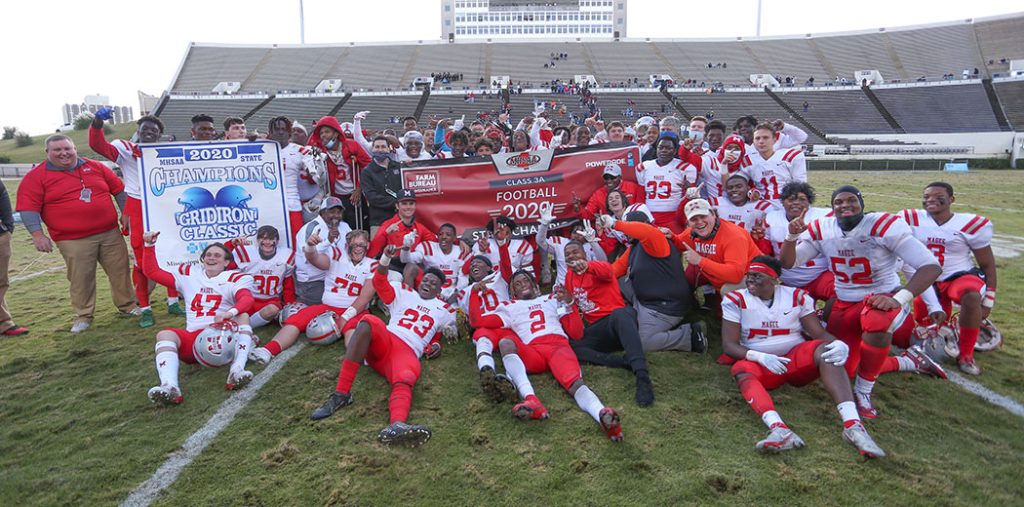 The Magee Trojans took home the 3A title behind a masterful performance from Mr. Football Award winner Chandler Pittman, accounting for 5 total touchdowns.
Biggersville (13-0): 14 vs. Lumberton (11-1): 20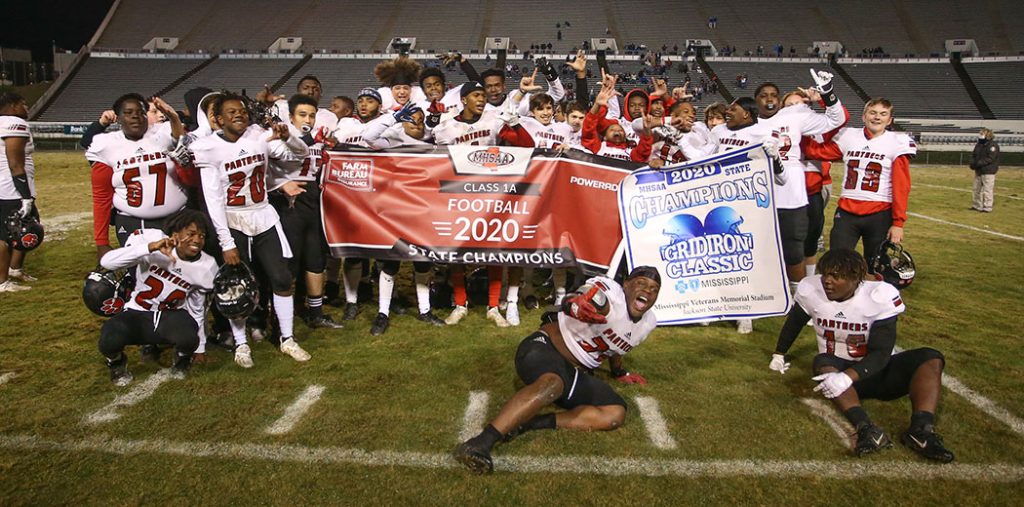 Biggersville tied the 1A title game late, but a 42-yard touchdown pass from Lumberton QB Rodney Parker to WR K'Nylan Willis gave the Panthers a 20-14 victory and a state championship.
6A – Oxford (12-0): 28 vs. Oak Grove (12-0): 29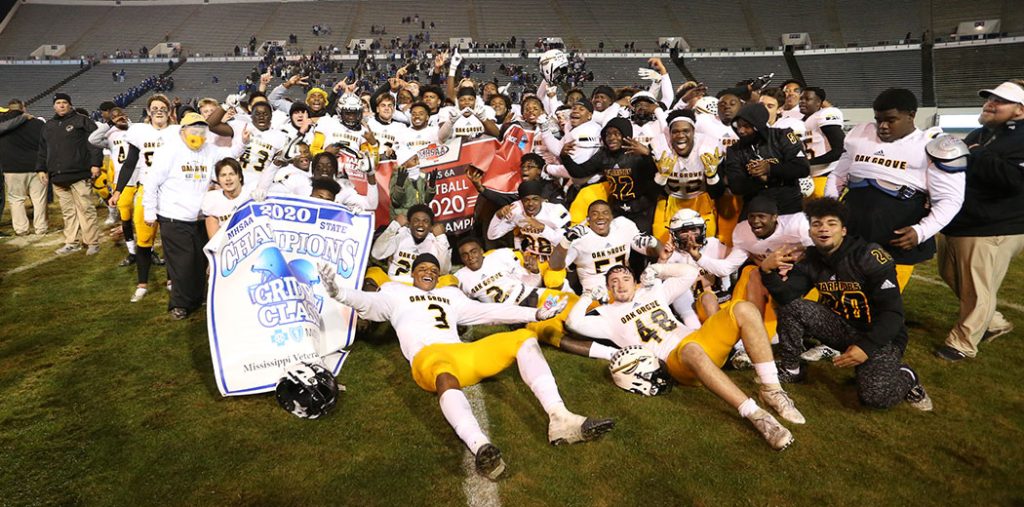 In a game that will be talked about for years to come, Oak Grove was to capture the 2020 6A state title. After Oxford took a 28-21 lead late in the 4th, the Warriors got the ball with time ticking away. On a 4th and short, Oak Grove QB Kade Barnett scrambled and found the end zone for what appeared to a game-tying touchdown with:07 seconds remaining, but head coach Drew Causey decided to go for the win. Barnett found Traveyon Moore in the back of the end zone to give the Warriors a 29-28 lead. A last-ditch effort by Oxford fell short and the Warriors won an instant classic. 
Saturday: 
4A – Louisville (12-1): 15  vs. Poplarville (10-3): 14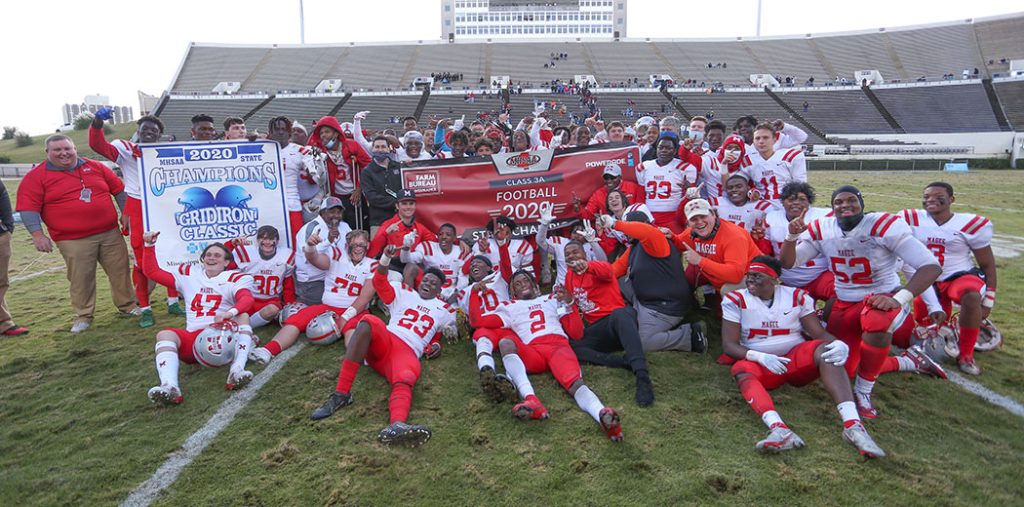 Continuing the trend of memorable state championship games, the 4A title game came down to the wire this morning as Louisville capped their comeback effort with less than a minute remaining to earn their 10th title in school history. Down 14-7, Louisville QB Jace Hudspeth found Jarvis Rush for a touchdown and the Wildcats opted to go for two, just like Oak Grove in Friday night's 6A title game. Jaden Triplett ran it in and with a 15-14 final score, Louisville left Jackson as state champions. 
2A – Calhoun City (10-2): 0 vs. Taylorsville (13-1): 42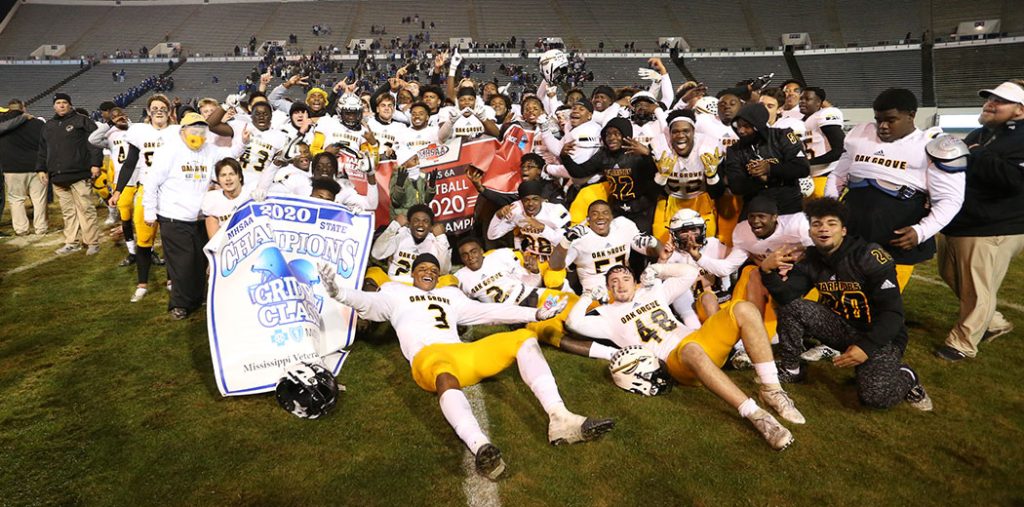 For the third time in four years, the Taylorsville Tartars are the 2A champions in Mississippi high school football. This was one all Taylorsville as QB and Mr. Football Award winner Ty Keyes, a Tulane commit, accounted for four touchdowns in the Tartars 42-0 win over Calhoun City. 
5A – West Point (11-3): 27 vs. West Jones (12-2): 33
Heading into Saturday night's matchup, West Point was looking to win their fifth straight state title, but when it was all said and done, it was West Jones that claimed their first-ever championship with a 33-27 victory. Tied at 27-27 at the end of three, the difference in this one was a short touchdown run from West Jones RB Kentrell Pruitt early in the fourth quarter. The Mustang defense held the Green Wave off on their final drive after crossing midfield to clinch the victory.