Today marks the 18th anniversary of the terrorist attacks of September 11, 2001 that left nearly 3,000 civilians and first responders dead following the collapse of the World Trade Towers in New York City, the crash at the Pentagon and the crash landing of United Airlines Flight 93 in Shanksville, Pennsylvania.
As we remember those who were lost and the first responders that ran toward the chaos on that tragic day, flags across the state have been lowered to half-staff.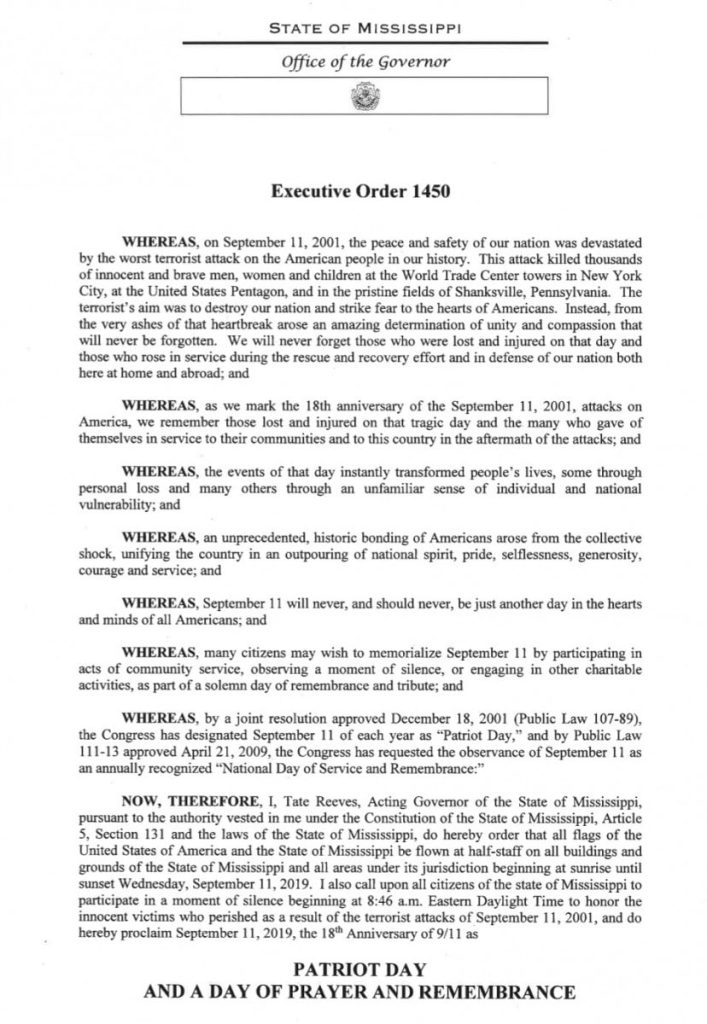 The executive order was signed by Lt. Governor Tate Reeves acting on behalf on behalf of Governor Phil Bryant.
This morning, leaders from across the country and in Mississippi have taken time to reflect on one of the darkest days in the history of the United States.
— Donald J. Trump (@realDonaldTrump) September 11, 2019
Today we remember those lost and the sacrifice made by so many heroes during the attacks on September 11, 2001. May this day serve as a reminder of the strength of the United States of America. #NeverForget pic.twitter.com/FhBewonJZ7

— Phil Bryant (@PhilBryantMS) September 11, 2019
"Eighteen years ago today, our country was attacked," Lt. Gov. Reeves said. "Evil cowards driven by a hateful ideology killed scores of innocent Americans. We responded with strength – met their terror with courage. That is the American way. Today, we remember those lost and recommit to that American way."
On this day, eighteen years ago, our nation experienced one of the most devastating terror attacks in history. God bless all of the brave first responders who were there that day, and God bless our military in the continuous fight against global terrorism. #neverforget

— Trent Kelly (@RepTrentKelly) September 11, 2019
We will always remember the lives we lost on this tragic and horrific day. Triumphantly, our nation came together and showed the world the strength of America. #NeverForget pic.twitter.com/usHqbjpzEZ

— Bennie G. Thompson (@BennieGThompson) September 11, 2019
18 years later.

Today we remember those who lost their lives in the cowardly attacks that took place on September 11.

To the first responders who answered the call that morning, we honor your sacrifice. pic.twitter.com/kMAzOXNJL6

— Cong. Steven Palazzo (@CongPalazzo) September 11, 2019
Today we remember the thousands of American lives lost on September 11, 2001. And our prayers go out to their loved ones, who continue to bear the deepest pain. #NeverForget pic.twitter.com/e0V92zmVFx

— Senator Roger Wicker (@SenatorWicker) September 11, 2019
May we #NeverForget the heroism of first responders and the innocent men, women and children lost 18 years ago today in the deadliest terrorist attack on American soil. May we remain united in our love of country and in the fight against terrorism. #PatriotDay pic.twitter.com/EFlC1PcXtE

— U.S. Senator Cindy Hyde-Smith (@SenHydeSmith) September 11, 2019
Today, we pause to honor the memories of those who lost their lives on 9/11. We remember the bravery and selflessness of our first responders and everyday heroes. We will never forget. pic.twitter.com/TElXoJ5uM1

— Jim Hood (@HoodForGovernor) September 11, 2019
18 years later and the images of that day remain just as vivid. Do not recall the towers falling. Remember the men and women who raised our nation back up again. God bless America. pic.twitter.com/M2TZ6LBMW3

— Lynn Fitch (@LynnFitch) September 11, 2019
We will never forget the 2,977 souls who died in this terrible attack on our country 18 years ago today, including the hundreds of first-responders who did everything they could to save lives and contain the damage. #NeverForget pic.twitter.com/bmoy4vqUMf

— Delbert Hosemann (@DelbertHosemann) September 11, 2019