An Olive Branch man has been found guilty by a jury of felony and misdemeanor offenses for his actions during the January 6 insurrection at the U.S. Capitol.
38-year-old Matthew Bledsoe, who owned a business in Memphis at the time of his arrest, was one of the over 850 convicted individuals that attended the riot at the Capitol in 2021.
Bledsoe was found guilty of the felony offense of obstruction of an official proceeding, as well as four misdemeanor offenses, including entering and remaining in a restricted building or grounds; disorderly and disruptive conduct in a Capitol Building; disorderly conduct in a Capitol Building, and parading, demonstrating, or picketing in a Capitol Building.
According to evidence compiled regarding the case, Bledsoe took to social media immediately following the November 3, 2020 election. On the day of the riot, Bledsoe attended a rally near the Ellipse and then made his way to the Capitol.
After 2:13 p.m., Bledsoe entered the Capitol Building illegally by scaling a wall at the Upper Northwest Terrace and entering through a fire door at the Senate Wing. He climbed a statue and was outside the corridor to the House Chamber and hallways near the Speaker's Lobby.
Before leaving the building around 2:47 p.m., Bledsoe yelled several profanities including, "In the Capitol. This is our house. We pay for this s—. Where's those pieces of s—at?"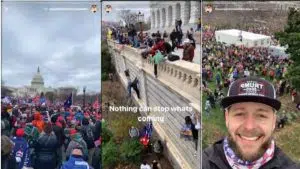 Within two hours, however, Bledsoe returned to the Capitol's premises, lingering outside the East Rotunda Doors.
In the days following the riot, Bledsoe shared photos on social media of the riot including members of Congress taking cover and security officers defending the Members, with one caption reading, "How corrupt politicians should feel."
Bledsoe was then arrested one week later on January 13, 2021.
Now, Bledsoe is scheduled to be sentenced on October 21, 2022. The felony obstruction charge carries a statutory maximum of 20 years in prison and potential financial penalties. The four misdemeanor offenses carry a combined statutory maximum of three years of incarceration and potential financial penalties. The Court will determine any sentence after considering the U.S. Sentencing Guidelines and other statutory factors.
Stay up to date with all of Mississippi's latest news by signing up for our free newsletter here. 
Copyright 2023 SuperTalk Mississippi Media. All rights reserved.