Just last week at Stennis Space Center, the second hot fire test of NASA's four RS-25 engines took place and it was a success.  It was a critical milestone ahead of the Artemis I mission, which will send an uncrewed Orion spacecraft on a test flight around the Moon and back to Earth.
Rebecca Turner, host of Good Things on SuperTalk Mississippi, told me about a man right here in Mississippi who has been fascinated with "all things space" since he was a child and turned his passion into art.  His name is Tim "Mo"  Mullen of McCarley, Mississippi.
Tim has been drawing for as long as he can remember.  He believes it began around the age of two and his interest grew after he watched a rocket launch on television.  Tim received some formal art instruction, but much of it was self-taught.  Looking at his drawings, I believe much of it is truly a gift.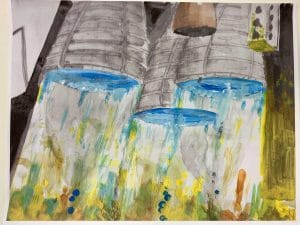 Tim enjoys drawing many things; people, places, things.  Whatever comes to mind.  But, his artwork featuring rockets, NASA, and shuttles seem to come from the heart of a young man dreaming about what is possible.  In fact, as a child, Tim wrote a story called "Asternot" – that's how he spelled it then.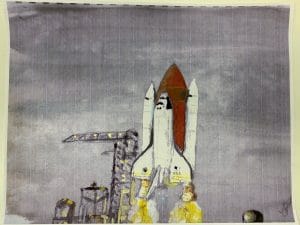 Tim has never visited Stennis Space Center, and even if he could, has no aspirations for space travel.  However, I think in his imagination, he's been there many times.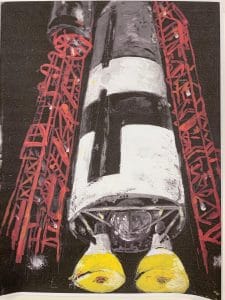 When Rebecca shared Tim's artwork and stories she said, "Regular listeners of Good Things know that I have an affection for all things space and Stennis Space Center. It is incredible to think that masterminds, right here in Hancock County, Mississippi, are helping engineer and test the engines that will take humans to Mars and beyond! Many of the Good Things listeners share in that awe and admiration for space exploration. Tim Mullen is one of those like-minded listeners."
"Tim heard me share my interest in space and decided to mail me his artwork around the topic. I was blown away at his talent and thoughtfulness to share his art with me. I couldn't keep these drawings to myself. Everyone should get the chance to see his creative representations of something we all find magical and mystical, space exploration," said Turner.
Former President George W. Bush once said, "Mankind is drawn to the heavens for the same reason we were once drawn into unknown lands and across the open sea. We choose to explore space because doing so improves our lives, and lifts our national spirit. So let us continue the journey."
Thank you for lifting our spirits by sharing your talents with us.