Earlier today, we reported that a Mississippi man had shattered a state record when he recently reeled in a massive blue catfish.
Well, now it seems as if he may have broken a world record with what he called a "fish of a lifetime."
Eugene Cronley of Brandon was fishing along the Mississippi River near Natchez on April 7 when he got a bite that seemed rather large. 40 minutes later, he had reeled in a 131-pound blue catfish.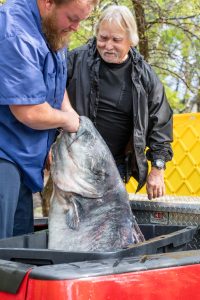 Cronley's catch easily broke Mississippi's rod and reel record, which was set by Dakota Hinson in 2009 when he landed a 95-pounder. It also broke Brad Smith's trophy record of 101 pounds. And first reported by The Clarion-Ledger, it could be a line class world record.
According to Cronley, he caught the fish on a 30-pound test monofilament line using skipjack herring as bait. If his line were to pass a test from the International Game Fish Association, Cronley would officially hold the world record for the biggest blue catfish caught on a 30-pound test line, which currently stands at 111 pounds.
Stay up to date with all of Mississippi's latest news by signing up for our free newsletter here. 
Copyright 2023 SuperTalk Mississippi Media. All rights reserved.