Mississippians across the state are sending aid to Florida as Hurricane Idalia makes landfall in the Big Bend region.
Dozens of Baldwin County electricians with Riviera Utilities arrived in Gainesville, Fla. on Tuesday afternoon to prepare for the incoming storms with the state's emergency officials.
The hurricane quickly grew to a Category 2 system throughout the day, later progressing into a Category 4 on Wednesday morning. Now, the storm has dropped back down to a Category 3 system as a storm surge containing heavy rainfall and winds ranging between 70 mph to 130 mph begins near Cedar Key, Fla.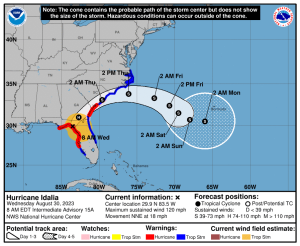 At this time, over 200 linemen with Mississippi Power have also stationed themselves near Georgia's coast as the hurricane is anticipated to travel into the southern portions of the state on Wednesday afternoon.
"We are fortunate that our customers will not experience any impacts from Idalia, and we're ready to assist our neighbors," Melvin Roland, distribution general manager and storm director, said. "Our team is focused on restoring power as safely and quickly as possible to those affected, while we continue to meet our customers' needs back at home."
The National Hurricane Center (NHC) has released that Hurricane Idalia is then expected to decrease to a tropical storm as it moves across parts of South Carolina on Thursday morning.
Florida Governor Ron DeSantis explained during a press conference on Tuesday afternoon that state officials will begin assessing damage from the hurricane as soon as possible.
"As soon as the storm passes, I think we'll end up trying to get on the road and try to figure out where the worst damage is and get down there and see what we can do to try and be able to help those folks," DeSantis stated.
Stay up to date with all of Mississippi's latest news by signing up for our free newsletter here. 
Copyright 2023 SuperTalk Mississippi Media. All rights reserved.