Mississippi is topping the list of states with the highest interest in the newly released Barbie movie in comparison to Oppenheimer, according to Google Trends data.
A graph, which was posted by India in Pixels on social media, shows search trends for the Oppenheimer and Barbie movies from across the United States starting on July 15 and ending on July 22. Mississippi residents expressed an overwhelming interest in the Barbie movie throughout the course of a week, with the Magnolia State surpassing the rest of the country's trending searches for both films.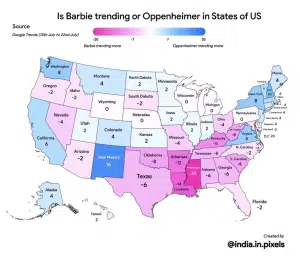 Surrounding southern states including Louisiana, Arkansas, and Kentucky also show a higher amount of trending searches for Barbie, while New Mexico — where much of Oppenheimer's plot takes place — represents the other side of internet searches.
"I think it does so well [in Mississippi] because we have so few opportunities to openly express ourselves and celebrate ourselves," one Mississippi resident and Barbie viewer, Camden Clem, stated. "It's not like Mississippi overtly oppresses feminine voices, but we don't have many opportunities and spaces to do such by ourselves."
Clem added that she believes the movie has gained popularity within the state because of the current trend to dress up in pink for the film's viewing.
"For it to be valid to dress up in pink and be silly without it being trivialized," Clem said. "It's celebrating being a woman and that being okay."
So far, it's been less than a week since both blockbuster films began showing at theaters across the world, with the movies accumulating $337 million globally in three days.
In the U.S. alone, Barbie reported approximately $155 million in ticket sales during opening weekend while Oppenheimer had $80.5 million, with the two films totaling a combined $235.5 million at the box office.
On top of being the No. 1 motion picture currently showing in theaters across the U.S., Barbie broke records for having the largest opening weekend this year, as well as having the biggest turnout in history for a female-directed film.
The movie — which has received a PG-13 rating for suggestive references and brief language — takes audiences on a brightly-colored journey with Barbie and Ken from Barbie Land to the Real World. Directed by Greta Gerwig, the comedy recovered the film's $128-145 million budget in less than three days, with over 12.8 million tickets being sold since its release.
As for Christopher Nolan's newest film, Oppenheimer has sold more than 5.8 million tickets throughout the nation since Friday, giving viewers an overarching view of physicist J. Robert Oppenheimer's work on the United States' Manhattan Project.
The R-rated biopic centers around Oppenheimer's life before and after the project's completion, showing movie-goers a glimpse of the steps taken by scientists and politicians to create the atomic bomb near the end of World War II.
Although both motion pictures have individually acquired high ratings and praise prior to their opening weekend, the internet has dubbed the films' simultaneous release as "Barbenheimer." The name combines both movie titles into one, with the new trend calling for cinephiles to attend a double feature for Barbie and Oppenheimer.
AMC's CEO, Adam Aron, stated on social media that 60,000 individuals participated in Barbenheimer at the movie theater chain on opening day. In all, over 200,000 people purchased tickets for the trend nationwide following the films' release, according to the National Association of Theatre Owners.
Stay up to date with all of Mississippi's latest news by signing up for our free newsletter here. 
Copyright 2023 SuperTalk Mississippi Media. All rights reserved.