Photo courtesy of Mississippi State athletics
Both of the matchups between Ole Miss and Mississippi State in the 2019-20 season ended in blowouts with each team claiming a victory in the rivalry series. Today's game was dominated by the Bulldogs as the regular season in college basketball comes to a close. Below, check out analysis of the game and what's next for both teams from SportsTalk Mississippi beat reporters Brian Hadad (MSU) and Brian Scott Rippee (Ole Miss). 
Mississippi State Makes Final Statement for NCAA Tournament in 69-44 Win Over Ole Miss
By MSU Beat Reporter Brian Hadad
Bulldogs hammer the Rebels behind stifling defense
If you could go back to November and tell Ben Howland that his team would finish 4th in the SEC and grab a double-bye in the SEC Tournament, he'd have felt very confident that not only was his Mississippi State team comfortably in the NCAA Tournament but would likely be a pretty high seed. Some unexpected non-conference losses combined with the overall weakness of the SEC have the Bulldogs on the outside looking in as the regular season comes to a close. The Bulldogs made their final statement before the postseason on Saturday, as they ran their in-state rivals from Ole Miss up and down the Humphrey Coliseum court, taking a 69-44 win over the Rebels.
PERRY PUNISHES REBELS
That stare down 👀 pic.twitter.com/zj5fUVPanb

— SEC Network (@SECNetwork) March 8, 2020
Ole Miss had no answer for Reggie Perry, as he dominated the undersized Rebel front court early and often. Perry finished the night with 22 points and 14 rebounds, his 17th double double of the season. Ole Miss tried a variety of defenders on Perry, but nobody had success. State scored 30 of their points in the paint on Saturday, where the Rebels only had 16.
TYREE TRAPPED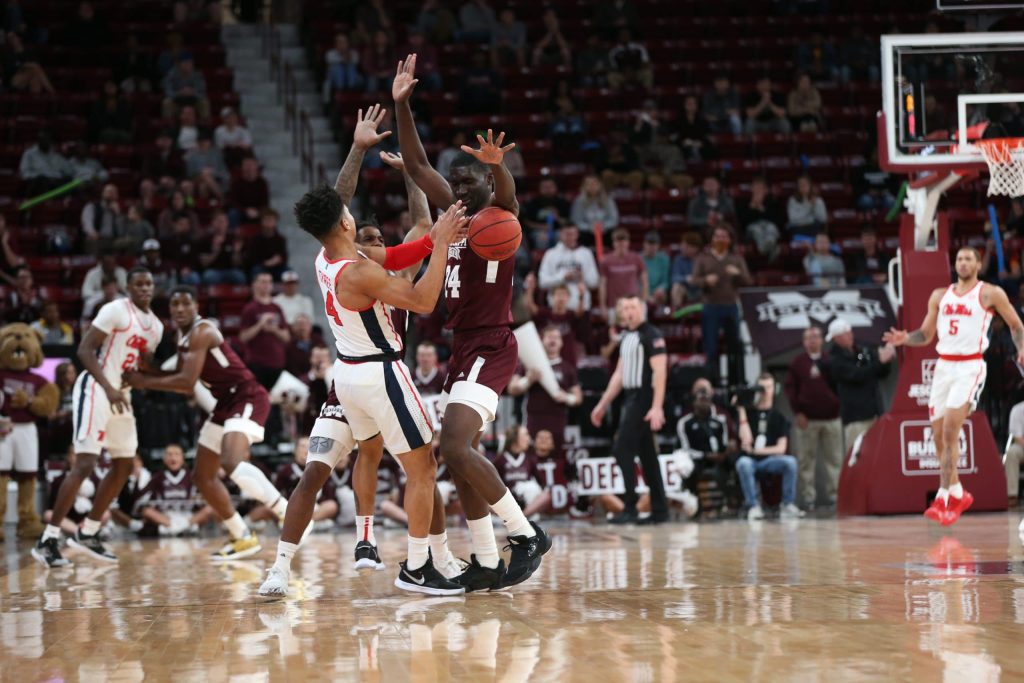 Breein Tyree dominated Mississippi State in the first meeting in Oxford, torching the Bulldogs for 40 points. Ben Howland made an adjustment for today's game, deciding to double team Tyree off ball screens with Abdul Ado, and that change gave Tyree's worst game of the season. Tyree was 4-13 shooting for only 11 points, and had three turnovers. Nick Weatherspoon, who played what he called the worst game of his life in Oxford, had 11 points, 6 assists and zero turnovers as he hounded Tyree on the defensive end. State's defense is what failed them in Oxford, today it led them, as they held the Rebels to 29.4% shooting.

WHAT'S NEXT?
Here is the 2020 @SEC Tournament Bracket #SECMBB pic.twitter.com/x1RjX5RSr4

— Craig Pinkerton (@SEC_Craig) March 8, 2020
Mississippi State will enjoy a double-bye, not having to play until Friday as a result of their fourth-place finish in the conference. They will take on the winner of Florida/Georgia vs. Ole Miss at 2:30 PM, so its possible the Bulldogs could go another round with their rivals. State probably needs at least two wins to get back into the conversation for an at-large berth, and their path would include a win over Kentucky should they get to Saturday.
Ole Miss 'not competitive' in blowout loss at Mississippi State to end regular season
By Ole Miss Beat Reporter Brian Scott Rippee
STARKVILLE —The game was played on Mississippi State's terms and the lopsided result was indicative of that.
Ole Miss lost its season finale in Starkville 69-44. All-SEC forward Reggie Perry staked his claim around the rim and the Rebels offered little resistance. Perry scored 22 points and snared 14 rebounds. Eighteen of those came in the first half as the Bulldogs rode Perry to an 18-4 run to close the first half that proceeded a 39-25.
The game quickly devolved into a farce in the final 20 minutes. The Bulldogs opened the second half on an 8-0 spurt, never offering Ole Miss a glimmer of opportunity to claw back into the game. 
When these two clubs met last month, it ended in a puzzling result after Breein Tyee went for a career-high 40 points in a blowout win for Ole Miss. This game followed a more believable script. The Bulldogs are a disastrous matchup for Davis' bunch on the interior and Ben Howland exploited that fact possession after possession. As a physical Mississippi State group played the role of aggressor, with Perry at the tip of the spear, it entangled Ole Miss' hapless forwards in foul trouble. The Bulldogs shot 24 free throws with 19 makes. The Rebels committed 19 fouls.
"Just a man amongst boys," Ole Miss Kermit Davis said. "Too physical. Too Big. Too strong. It's amazing, we could guard him at home but not here. We couldn't do anything. In that first half, when he was wound tight, we couldn't even get to the double team. Give him credit. He's a really good player."
The Bulldogs hammered Ole Miss on the glass to the tune of a 42-30 advantage. Mississippi State grabbed 11 offensive rebounds, compiled 30 paint points and 16 second-chance points. That, coupled with the way they defended Tyree, rendered Ole Miss completely helpless.
Tyree's 11 points on 4-13 shooting was a far cry from his first crack at Mississippi State — a 40-point masterpiece that might be the defining moment of his career. Howland and the MSU backcourt assured that wouldn't happen again. They doubled hard off ball screens, interrupting Tyree's dribble and coaxing him further away from the basket.
"They trapped him and Breein takes one dribble and puts the ball over his head," an exasperated Davis said. "When you trap good players, they make you pay. Breein didn't do that. He's struggled with that all year. . . He has to prove he can do that and we haven't done that. Take an extra dribble or two, find someone open them pay for the double team."
The suffocating tactic disrupted Ole Miss' entire half-court offense. Tyree was unable to shoulder the heavy scoring burden he's had to lug all season Nick Weatherspoon cut off driving lanes and matched Tyree's quickness and athleticism. Tyree had just one field goal in the first half on five shots. Devontae Shuler's 16 points were not nearly enough to supplement Tyree's struggles. 
Ole Miss was an awful road team this season, much to Davis' displeasure. With just one true road win on the year — a 70-60 victory at Georgia that snapped a seven-game losing streak — The Rebels lost their final five contests on the road and posted a 1-10 record on the year.
"Toughness," Davis said. "Sure we have lost a couple of close games on the road, but it is toughness. That is something our teams, wherever I have been, have always been very good on the road. Toughness on the road. We are not. We have played at times, at Kentucky or at Missouri, but we have had four or five of these as well. We were not competitive. That is something we have to fix for next year."
Ole Miss' fate was secured before this game began. Missouri's win over Alabama on Saturday locked the Rebels into the 12 seed in the SEC Tournament. They play Georgia at 6 P.M. on Wednesday. A loss will end what has been a frustrating season for Davis in his second year at the helm. This defeat won't send them into Bridgestone Arena with additional confidence.
"We will get together and watch the tape tomorrow," Davis said. "But this won't great momentum into Nashville. I don't know, we will try to be better in practice. There's no good message from this."
Postgame Live: MSU 69 Ole Miss 44 https://t.co/Fe216zVqRS

— SportsTalk Mississippi (@SportsTalkMiss) March 8, 2020
Stay up to date with all of Mississippi's latest news by signing up for our free newsletter here. 
Copyright 2023 SuperTalk Mississippi Media. All rights reserved.