Mississippi State embarrassed by their in-state rivals
Mississippi State arrived in Oxford looking to keep some momentum going after winning 5 of their last 6 SEC games, but all the Bulldogs got was a smack directly to the mouth, as Ole Miss dominated from the closing moments of the first half all the way to the final whistle, grabbing a demoralizing 83-58 win over the Bulldogs. State led by as many as 13 in the first half only to see the Rebels chip that margin down to 1 at halftime. From there, Breein Tyree, the reigning SEC player of the week, delivered a performance for the ages, scoring 27 of his 40 points in the second half, outpacing the entire Bulldog team. State falls to 15-9, 6-4 in the SEC, and now face what feels like a must win game Saturday at Arkansas.
TYREE DOMINATES THE DAWGS
40 PIECE FOR BREEIN TYREE 🔥🔥🔥 pic.twitter.com/sNYl9LqCpC

— SEC Network (@SECNetwork) February 12, 2020
Mississippi State knew eliminating Breein Tyree was not likely, but the Bulldogs hoped to contain the SEC's leading scorer. Instead, Tyree torched Ben Howland's team for 40 points, 27 in the second half, as the Rebels blew the doors off of the Bulldogs. On the other end of the floor, Kermit Davis and his decision to run a 1-3-1 zone absolutely flummoxed the maroon and white, as State was forced to settle for perimeter shots they couldn't hit. MSU only put up 20 points in the paint, a season low, while going a paltry 2-16 from three point range. State was outplayed, outcoached, and outhustled by a suddenly resurgent Rebel squad.
NICK'S AWFUL NIGHT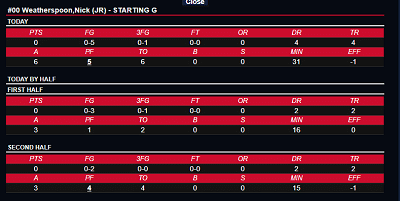 Mississippi State needed a big night on both ends from Nick Weatherspoon, instead they got perhaps the worst performance of his career. The junior point guard scored zero points, had six turnovers, and a plus/minus rating of an seemingly impossible -36. Weatherspoon looked out of sorts throughout the game, and wasn't able to provide anything on either end of the court for his team. His play had been a big reason State had dug out from the 0-3 start to conference play, and MSU will need him to rebound quickly if they want to continue to have postseason hopes.
WHAT'S NEXT?
Hogs drop one in Knoxville. pic.twitter.com/KeT8kZPwCN

— Arkansas Razorback Basketball 🐗 (@RazorbackMBB) February 12, 2020
It's a huge bubble battle in Fayetteville on Saturday, as the reeling Arkansas Razorbacks host Mississippi State in game that will likely doom the loser to an NIT berth. Tip off is set for noon, the Bulldogs aren't in must-win mode, but a loss would put their backs squarely against the wall.
Photo courtesy of Mississippi State athletics