A group of students in a Lego League Challenge Team helped a turtle on the Mississippi Gulf Coast regain the ability to walk by creating a personalized set of wheels.
The Southaven-based group banded together to take on the special project when the 20-year-old turtle, named Lieutenant Dan, had his back legs amputated after getting hit by a car.
Lieutenant Dan was taken in by the Central Mississippi Turtle Rescue in September following the incident and has since been living at a foster home in Olive Branch.
Several months later, the "Bots of Prey 240" group was asked by Lieutenant Dan's foster parent to come up with a creative solution that would help him have more mobility.
"They needed a way to get him up off of his stomach so he can get out and explore outside," Brooke DeHaven, the group's coach, said on Good Things with Rebecca Turner. "He does really good in his own enclosure, but they wanted him to be able to have a little bit more quality of life and be able to get outside."
DeHaven explained that the kids worked on three different prototypes that would provide both comfort and the freedom to move efficiently, with the students' final creation serving as the most effective design.
"We started off with a much more complex build that had four wheels and a feature that went over the top of him," DeHaven stated. "We took it back, scaled it back a little bit, and made it a little smaller."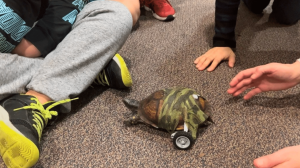 She added that although the second prototype worked well, the kids thought several changes still needed to be made.
"We went down to just a base plate bot to go across his abdomen area, or his lower shell area, and some larger off-road tires so he could get around outside," DeHaven explained. "That seemed to work the best."
DeHaven said that the group was able to see Lieutenant Dan put the prototype into action shortly after its completion.
"It was a cool experience to see him actually being able to turn because the first two builds he was just going straight, they were too heavy for him to be able to turn," Dehaven said. "Once he got ahold of the last one, even right off the bat, he was taking off pretty quickly."
Continue watching the entire interview below.
Stay up to date with all of Mississippi's latest news by signing up for our free newsletter here. 
Copyright 2023 SuperTalk Mississippi Media. All rights reserved.