One Mississippi tech startup has been awarded $250,000 from the Google for Startups Black Founders Fund, joining 23 other companies selected from across the nation to receive the grant funding.
Buzzbassador's CEO and co-founder Calvin Waddy, a 2018 MSU College of Business alumnus from Madison, has been identified by Google as a top emerging tech founder, selected from thousands of founders and tech companies evaluated for the award.
The company, which was launched in Mississippi State's Entrepreneurship Center, is a software-as-a-service application that automates influencer marketing for growing consumer brands.
It is the flagship product of Rocketing Systems, Inc., a software company — founded in 2020 by business students working under the guidance of MSU's E-Center — that creates automated e-commerce and marketing solutions.
Now, the Google-backed tech startup has over 140,000 users globally and has generated $20 million in sales for over 450 businesses.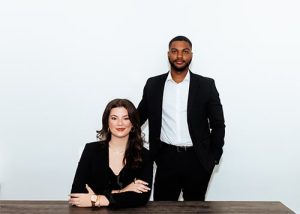 Waddy and co-founder Shelby Baldwin, a 2019 MSU College of Business graduate from Ridgeland who serves as the company's chief operating officer, also have claimed top honors at numerous business pitch competitions and were named among the Southeast's Top Technology Startups by Venture Atlanta in 2020.
"Buzzbassador's acceptance into Google for Startups Black Founders Fund marks a pivotal milestone in our company's journey and growth trajectory," Waddy said. "Google's investment and belief in our company is a testament to our team's hard work and dedication to our mission."
Waddy explained that the partnership with Google will allow the team to tap into Google's vast system of advanced technologies and expertise from its global network.
He added that Google's backing of an MSU-founded startup "is a strong sign of not only the quality of a business education at MSU but also of the caliber of entrepreneurship support provided by MSU's Entrepreneurship Center."
"The majority of our over $1 million in venture capital raised to date has come from angel investors connected to Starkville, MSU, and the Mississippi State E-Center, through networks such as the Bulldog Angel Network," Waddy stated.
Eric Hill, director of MSU's Center for Entrepreneurship and Outreach, known as the E-Center, said he's met few students as determined as Waddy.
"During his time at MSU, he and his team pitched several ideas that just didn't quite make it, but he never gave up and each one got him closer to finding the real pain point that led to Buzzbassador," Hill said. "That tenacity is one of the hallmarks of some of the greatest entrepreneurs, and we're so proud to see him acknowledged by one of the most recognizable names in tech. Calvin represents everything we aspire to support at the E-Center."
Stay up to date with all of Mississippi's latest news by signing up for our free newsletter here. 
Copyright 2023 SuperTalk Mississippi Media. All rights reserved.