In 2019, on January 20th, our friend and brother-in-broadcasting, JT Williamson, was diagnosed with Large B-cell Lymphoma.  It was exactly one year ago this Wednesday when JT was admitted to the ICU and coded several times.  He obviously still had work to do here on Earth and has been in the fight of his life ever since.
JT has been in Houston, Texas since before Christmas undergoing various treatments in an attempt to defeat this horrible disease.  It appears some groundbreaking and progressive therapy is offering hope.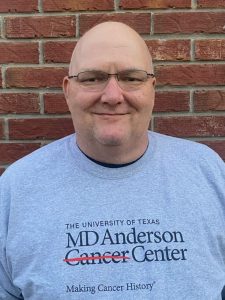 This past Friday, JT made an appearance on the Paul Gallo Show on SuperTalk Mississippi to give an update on his progress. He also shared how this Wednesday, one year to the day from his rapid decline and admittance to the ICU, could change the trajectory of his prognosis.
As I was listening to Paul and JT's conversation, I couldn't believe the joy I heard in his tired voice.  I kept thinking, how could someone who has been through so much sound so peaceful.  But he did.  That made me smile.
When JT first arrived at MD Anderson, he was told he would have either stem cell or Car-T therapy.  It was decided that the Car-T therapy was the way to go.
JT said, "That was a good thing in one way, because I got to go home for Christmas, and didn't have to spend it in the hospital. You know, the good Lord has taken these doctors and given them the knowledge to fight this nasty disease called cancer."
He explained that they took his T-Cells by hooking one line to one arm and one line to the other and running the blood through a machine, sort of like a dialysis machine. "It spins out my T-Cells and they collect them.  That night, the T-Cells were sitting in California.  There, they take my T-Cells, re-engineer them and supercharge them, and they're going to give them back to me on Wednesday."
JT said the T-Cells will actually go in, seek out, and kill the cancer.  "I'll have them in my body for the rest of my life, so it's a non-chemo way of treating the cancer.  I'm taking some chemo now to kind of knock my immune system down so my body doesn't attack those T-Cells."
He will have to spend about 10 days in the hospital.  "My daughter will have to be in there with me in case I have any personality changes," said JT.  He noted, with a laugh, that he has those nearly every day.
JT said they are looking forward to the next step.  "I had a great conversation with my hematologist and he said we're going to reach glory.  I'm feeling really good about it.  The fact that they're going to use my own cells, my own body, to heal my body is just amazing.  That is just miraculous in my opinion and blows me away."
Once he receives his treatment on Wednesday, JT said he will have to remain in the hospital for a little while to make sure everything is good. "If everything goes well, I should be back home around March 10th.   Depending on how I feel will determine when I come back to work.  I'm ready and I miss you guys."
JT also revealed that he is part of a clinical trial.  In fact, he is the third person in the country to participate.  "I'm in a clinical trial regarding the side effects.  They've given me a drug to minimize the side effects that come along with the treatment, so every time they take a little blood they take a little extra so they can study it."
As Wednesday draws nearer, JT explained that the Car-T procedure itself will only take about 15 minutes.  "The side effects are mostly neurological.  Some people get a little confused, but that's just your body trying to fight off things.  There will also be some fever.  But the clinical trial I am in with the side effect drug is to minimize that. I'll be the third person in the country to do that."
JT said he has learned that the other two participants in the study have done very well.
As their conversation ended, JT told Paul, "I'm going to be back, brother.  I'm doing well and feel great."
And with that, we ask for your prayers for JT as he steps up to battle once again on Wednesday.  A battle, I am quite certain, he will win.
Stay up to date with all of Mississippi's latest news by signing up for our free newsletter here. 
Copyright 2023 SuperTalk Mississippi Media. All rights reserved.