The National Down Syndrome Society is scheduled to broadcast its annual video presentation in Times Square on September 17 and one Mississippi child will be featured for the fourth year in a row.
Pass Christian native Hudson Hartman has been selected to have his picture displayed with hundreds of others with Down Syndrome from across the U.S. on two of the big screens in New York City's most popular tourist destination.
Mika Hartman, Hudson's mother, who also refers to herself as his biggest fan, told us that Hudson's journey has not been an easy one.
From complications throughout her pregnancy to Hudson having to face a battle with transient leukemia upon his birth, the chances that the four-year-old would not only survive but also be seen as a figurehead of a movement that would change Mississippi legislation is nothing short of miraculous.
New Mississippi laws such as the Human Life Equality Act, Hudson's Law, and Cole's Law passed through the state legislature within the past three years. Mika Hartman credits her son's presence as a driving force to convince lawmakers to consider the cause for new laws pertaining to individuals with Down Syndrome.
"We went to Jackson and shared Hudson's story. Quickly Hudson became 'Senator Hudson.' They all fell in love with him," Hartman said of their experience at the State Capital. "That was such an amazing experience. To see Hudson getting the applause he got and people really seeing Hudson and realizing that he deserves this life."
It was also a mesmerizing experience for the Hartman family when they first laid eyes on Hudson's face being displayed amongst hundreds of others that look like his. Mika Hartman told us that the entire event was indescribable as her family was able to share it with others who are fighting a similar battle as theirs.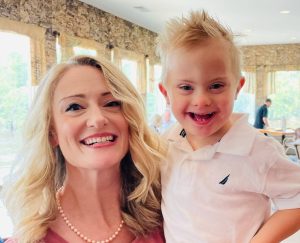 "There are no words at all that can describe it because when you look up, I mean not only did I see him up there melting my heart and tears of joy pouring down, but everyone that was watching the screens with us, and the impact that it had on them," Hartman said. "If you have a child with Down Syndrome, you already know the special gift you've been given, but if you don't have a child with Down Syndrome or have never experienced life with someone with Down Syndrome, that moment was to place the value of each one of those individuals and the life that they deserve to live."
Hudson can be seen on Times Square through a live stream on the NDSS Facebook page on Saturday, September 17 beginning at 10:30 a.m. CT.
Stay up to date with all of Mississippi's latest news by signing up for our free newsletter here. 
Copyright 2023 SuperTalk Mississippi Media. All rights reserved.