The third annual Mockingbird Songwriter Music Festival returns to Leland April 14-15.
The festival, hosted at the Gin at Dunleith by Mississippi Music and Cultural Ambassador Steve Azar, will feature intimate performances from award-winning songwriters, telling the stories behind their hits while performing the songs as originally written.
"The songwriter is unique in our music business. Although I have always written what I record most of the time, the artist isn't always the songwriter," Azar said. "These are my people, and I love sharing their talents in a setting, such as the Gin at Dunleith and Leland out on the farm."
Azar, who has charted nine times on Billboard Hot Country Songs, says those who attend the festival will get to experience the artistry and thought behind some of their favorite songs.
"It's where Music City collides with the birthplace of America's music. If you haven't heard a song from the place that it was born – the songwriter – then you have never heard the song at all," Azar continued. "My pals have written hundreds of hits, and I encourage everyone to come on out."
Attendees are encouraged to bring lawn chairs and beverages of their choice as they sit back and enjoy the music performed by the very people who made the songs possible.
Tickets for the 2023 Mockingbird Music Festival can be purchased online for $40. The full lineup can be found below.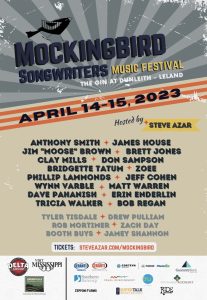 Stay up to date with all of Mississippi's latest news by signing up for our free newsletter here. 
Copyright 2023 SuperTalk Mississippi Media. All rights reserved.