If Entergy Corporation Nuclear Fleet Outage Services Director Devon Price hadn't been a welcoming sort of person, he and his family might not be anticipating two trips to New York City and an appearance on NBC's Today show.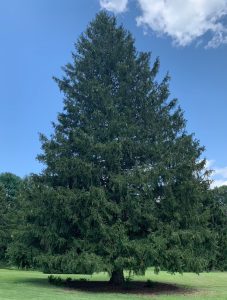 Price works for Entergy nuclear fleet headquarters in Jackson, Mississippi. He has worked at Entergy for eight years.
He and his family also own property in Elkton, Maryland, which was where he found himself face to face with a stranger knocking on his front door.
"He said he was an arborist and has a keen eye for gorgeous trees and asked if he could take a look at the fabulous Norway spruce behind the house," Price recalled.
No problem, said Price, and they went into the backyard to view the 79-foot tree whose branches spread to a 46-foot diameter at the base. Gradually, the man revealed who he was: Erik Pauzé, head gardener at Rockefeller Center in New York City.
"He said, "Ever hear of the Rockefeller Center Christmas tree? What would you think of letting this one go?'" Price recalled. Pauzé explained that it would be a donation and "would be a pretty big deal," Price recalled. After Pauzé left, the family discussed whether they wanted to provide the most famous Christmas tree in the world. Price's wife, Julie, wasn't sure she wanted the attention, and their son Wes and daughter Natalie were also reluctant. But after talking more as a family, the decision was made to move forward.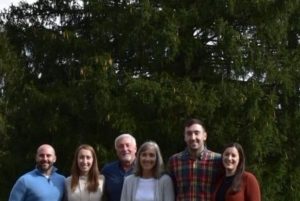 The Rockefeller Center Christmas tree tradition is 90 years old. Workers constructing the office building complex during the Depression erected the first tree in 1931 – a 20-foot balsam fir decorated with strings of cranberries and paper garlands, made by the workers' families. The first official tree – a 50-foot balsam fir – was raised two years later.
During World War II, the tree was unlit due to blackout regulations. After the Sept. 11, 2001 attacks, it was decorated in hues of red, white and blue. In 2019, more than half a million people passed by the tree during the month it was on display. In 2020, due to the pandemic, there were no crowds at the tree. It is raised in front of 30 Rockefeller Plaza, home of the NBC television network, and stands over the center's famous ice-skating rink and golden statue of Prometheus.
The Price family considered other factors. "The tree is 85 to 90 years old. Over 30 years on our property, we have lost at least 10 large trees due to snow, wind, ice, heavy rains and it's pretty close to the house," Price said.
Starting in mid-April, a team of arborists began feeding the tree biweekly with 800 gallons of nutrients. In mid-October, the team started piping water to the top of the tree every two weeks to soften the branches in preparation for wrapping and moving. The crew also placed mulch around the tree and collected fallen spruce cones, since people often want a souvenir, Price said.
Moving the 12-ton object on a massive flatbed truck 150 miles to New York is a huge undertaking. "They were putting rigging plans together at that point, planning how to get it out of the neighborhood," he said. Even when the branches are bent toward the top and the tree is tied, it is about 14 feet in diameter.
Once the tree is raised in New York, it will be decorated with 50,000 multicolored LED lights and topped with a giant Swarovski crystal star. The lights will be turned on December 1st at the end of a two-hour live entertainment show nationally televised by NBC.
When the tree comes down in early January, its branches are mulched for use in New York parks and its trunk is milled for lumber and donated to Habitat for Humanity houses.
Price and his family were invited to New York for the tree raising and again for the tree lighting on December 1st. "It's funny. I have never watched the tree lighting on TV and I've only been to Rockefeller Center once at Christmas," Price recalled.
This time, he and his family are going as tree VIPs.
Stay up to date with all of Mississippi's latest news by signing up for our free newsletter here. 
Copyright 2023 SuperTalk Mississippi Media. All rights reserved.