On Tuesday, October 12th, the Mississippi Supreme Court convened to honor the service of 103 members of the Mississippi Bar who passed away during the past year.
Mississippi Bar President Robert Gibbs noted that the deceased included former Governor William F. Winter, judges and other public officials and many attorneys in private practice. Their service ranged from only eight years to 73 years as a member of the Bar. "No matter how long they served, they all served and sacrificed for our profession and for that we are eternally indebted," Gibbs said in his eulogy.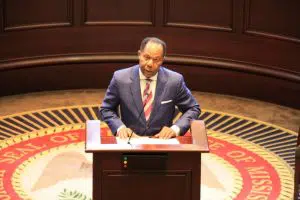 Governor Winter, who was admitted to the Mississippi Bar in 1949, served in the Mississippi House of Representatives and as Lt. Governor before he was Governor. "For his work to improve race relations, Governor Winter received the Profiles in Courage Award from the John F. Kennedy Library and Museum," Gibbs said. "Governor Winter and the other 102 who were memorialized represent a tremendous loss to our profession and for our society."
Gibbs noted that some deaths were so recent that the names had not been included in the roll of the deceased. U.S. Magistrate Judge John Gargiulo of Gulfport died October 3rd. His funeral was October 12th, the day of the Bar Memorial ceremony.
Members of the judiciary who died during the past year include U.S. District Judge William H. Barbour Jr., Circuit Judge Eddie Bowen, retired Chancellor Edward G. Cortright Jr., retired Municipal Judge and Mayor Dale Danks Jr., retired Justice Court Judge Patricia F. Dunmore, retired Circuit Judge Michael Eubanks, retired Mississippi Court of Appeals Judge Eugene Love Fair, U.S. District Judge Walter J. Gex III, retired Chancellor Norman Gillespie, retired Circuit Judge L. Breland Hilburn, and retired Municipal Judge John W. Whitten III.
Supreme Court Presiding Justice Leslie D. King, in his response on behalf of the Court, said those who died during the past year include friends, judicial colleagues, and judges before whom he practiced law. They also included elected and appointed officials, attorneys whom he knew by reputation, and some that he did not know. He called Governor Winter, "a real statesman who sought to fully and fairly advance the best interests of all Mississippians."
"Whether widely known or working in relative obscurity, each of the persons memorialized today shared a belief in and a commitment to the rule of law. Through their embrace of the rule of law, each of them in his or her own way contributed to the betterment of their respective communities," Presiding Justice King said. "They were ordinary people of good character, ordinary people committed to improving their community, ordinary people dedicated to serving the needs of their community. Today we honor their character, commitment and service. Because of their character, commitment and service, ours is a better society."
Chief Justice Mike Randolph presided over the ceremony.
Click here to watch the ceremony in its entirety.
Click here to see the Mississippi Bar's Memorial Resolution, which includes the names of all who passed away.
Stay up to date with all of Mississippi's latest news by signing up for our free newsletter here. 
Copyright 2023 SuperTalk Mississippi Media. All rights reserved.