The latest report from the Mississippi State Department of Health shows a sharp increase in new COVID-19 cases. 
876 new cases bring the state's total up to 106,817. With the confirmation of *25 additional deaths, 3,140 Mississippians have now passed away from the virus. 
*MSDH Note: 16 COVID-19 related deaths occurred between July 28 and October 8, identified from death certificate reports.
The latest data from the MSDH shows that overall hospitalizations have risen above 500 for the first time since September 23rd.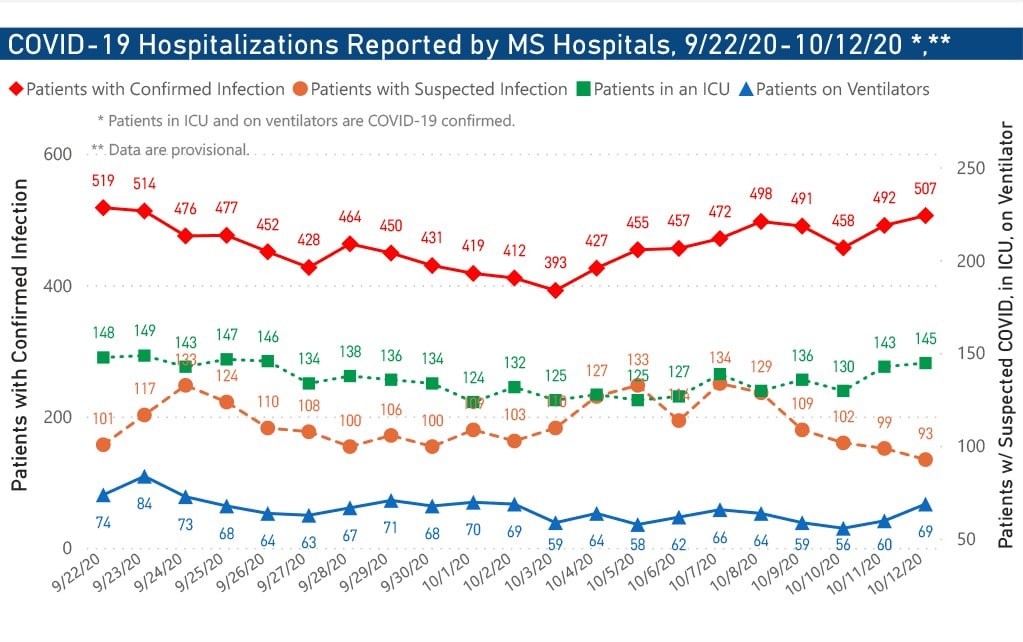 An increase in hospitalizations is one of the indicators that State Health Officer Dr. Thomas Dobbs recently alluded to as he explained that Mississippi may be entering a second wave of the pandemic. 
"I'm actually very concerned that we are going into a phase," Dr. Dobbs said.  "It's kind of like reading the stock market sometimes. You don't really know what's going to happen, but we do have some indicators and all of the indicators are moving in the wrong direction. We have hospitalizations up, cases are up, deaths are not really up so much, but we always know that lags and we know that our COVID-like illness indicators are up. The last time we saw that was before the summer surge," Dr. Dobbs said Monday.
As of Monday, an estimated 94, 165 Mississippians have recovered from COVID-19.
Stay up to date with all of Mississippi's latest news by signing up for our free newsletter here. 
Copyright 2023 SuperTalk Mississippi Media. All rights reserved.