With the expansion of vaccine eligibility for children between the ages of 12-15, an additional 164,619 Mississippians can now get vaccinated. 
Wednesday, the CDC recommended the use of the Pfizer vaccine for this expanded age range following the FDA's authorization earlier this week. 
"The evidence shows that this vaccine is extremely safe and effective, and even more so than older age groups from the study data that was released this past week," State Health Officer Dr. Thomas Dobbs said during a press conference. 
Dr. Dobbs was referencing the FDA study that showed 100% efficacy among the 1,005 participants within the age group who received the shot. MSDH officials urged parents to vaccinate their children as thousands of children within this age range have contracted the virus since the onset of the pandemic. 
MSDH Director of Health Protection Jim Craig provided following list of MSDH locations offering the Pfizer vaccine.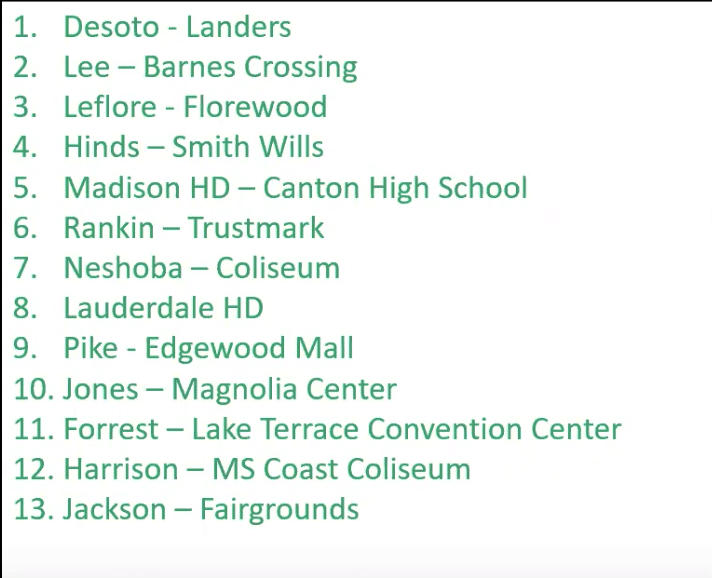 Walk-in sites are also available in Panola, Oxford, Oktibbeha and Lowndes. Make your vaccination appointment for you or your child at covidvaccine.umc.edu. 
Additionally, the MSDH announced the launch of expanded COVID-19 testing in schools on a voluntary basis. State Epidemiologist Dr. Paul Byers stated that this will make a big impact in limiting spread of the virus at schools, especially during extracurricular activities. Learn more about the program, here. 
Watch the full MSDH press conference below:
Stay up to date with all of Mississippi's latest news by signing up for our free newsletter here. 
Copyright 2023 SuperTalk Mississippi Media. All rights reserved.