Photo courtesy of Kelly Donoho/MSU Athletics
The Mississippi State women's basketball team is preparing for a trip overseas. 
Starting on July 3rd, the Bulldogs will represent the United States at the 30th Summer World University Games in Naples, Italy.
The squad was selected to compete as USA Team for the tournament and will play seven games against other countries throughout the duration of the event, beginning with a friendly on July 1 against Japan on a U.S. Naval Base.
The roster for the team's trip, which includes a familiar face in Jazzmun Holmes, can be seen below.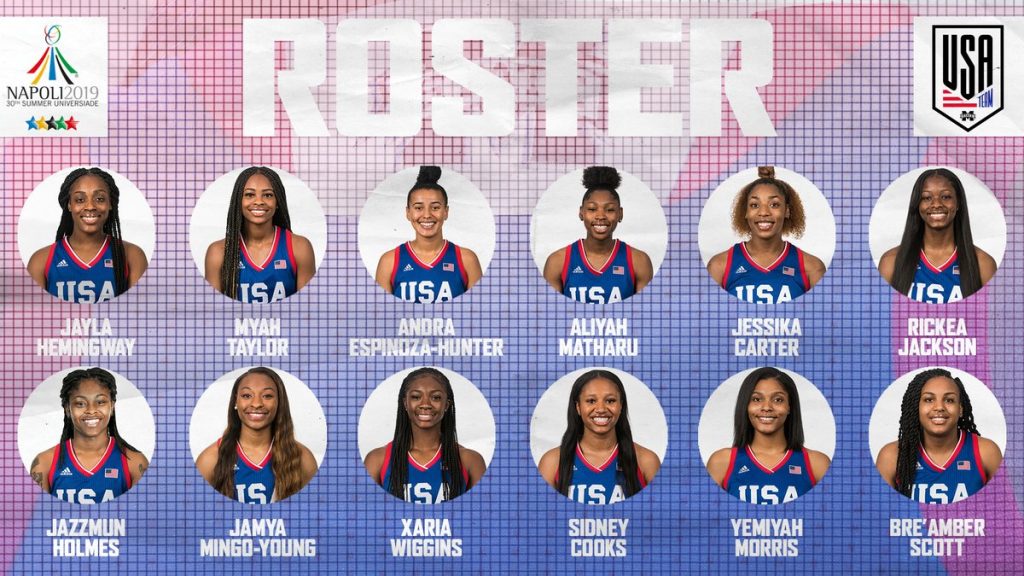 With the ability to bring 12 players, head coach Vic Schaefer was able to extend an invitation to Holmes, who graduated following the 2018-19 season. 
Even as the Bulldogs retool their roster with the loss of Teaira McCowan and Anriel Howard, Schaefer says they're going over there with a winning mindset. 
"This isn't like a foreign tour, where you go over and play a bunch of club teams that aren't very good, and you look like a million dollars, win by 60, everyone is happy and plays 10-12 minutes a game," Schaefer said. "We made the decision that we are going to go over, compete with the best and try to win it. We have practiced that way. Practices have been a little bit different, and our training has been quite a bit different this June compared to Junes in the past. Our young kids have been thrown in the fire pretty quick."
Redshirt sophomore guard Myah Taylor joined Schaefer and Holmes at the podium yesterday to discuss the importance of the trip as the Bulldogs rep the red, white and blue. 
"It means a lot because the USA is something that's bigger than just us. We're getting ready to represent our country and so with that comes a lot of pride and hard work. I'm really excited. I painted my nails blue because I'm so excited. I'm ready," Taylor said.
MSU Women's Hoops: Coach Vic Schaefer https://t.co/iXnjLV2rSG

— SportsTalk Mississippi (@SportsTalkMiss) June 25, 2019
State will play three pool play games and the top two teams in each pool advance to the medal rounds. The remaining teams will play consolation games.
MSU will be the third full team from a women's college program to represent USA Team in the event. Maryland played in the 2017 event, while Charlotte and a Big 12 Conference-fielded team competed in the 2007 and 2003 events, respectively.
Stay up to date with all of Mississippi's latest news by signing up for our free newsletter here. 
Copyright 2023 SuperTalk Mississippi Media. All rights reserved.