NASA is inviting individuals across the globe to add their names to an original poem that will be sent to Jupiter's moon Europa next year.
Participants will be able to sign up for NASA's "Message in a Bottle" campaign by including their first and last names in an online form before receiving a customizable souvenir – an illustration of their name on a message in a bottle against a rendering of Europa and Jupiter – to commemorate the experience.
Each individual's name will then be stenciled onto a microchip bearing U.S. Poet Laureate Ada Limón's "In Praise of Mystery: A Poem for Europa" before NASA's Europa Clipper spacecraft begins its journey across billions of miles to the Jupiter system.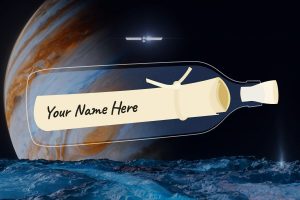 "'Message in a Bottle' is the perfect convergence of science, art, and technology, and we are excited to share with the world the opportunity to be a part of Europa Clipper's journey," Nicola Fox, associate administrator for NASA's Science Mission Directorate in Washington, said. "I just love the thought that our names will be traveling across our solar system aboard the radiation-tolerant spacecraft that seeks to unlock the secrets of Jupiter's frozen moon."
Europa Clipper's mission — which involves the spacecraft being sent to Jupiter's moon, Europa, in October 2024 — aims to investigate whether the ocean thought to lie beneath the moon's icy crust could support life.
During the mission, the Europa Clipper will travel 1.8 billion miles to reach the Jupiter system, where it will arrive in 2030. As it orbits Jupiter and flies by Europa about 50 times, it will log another half-billion miles while a suite of science instruments gathers data on the subsurface ocean, the ice crust, and the moon's atmosphere.
At this time, Europa Clipper is being assembled at NASA's Jet Propulsion Laboratory (JPL) in southern California before it will be launched from Cape Canaveral, Florida.
"Inspiration is what fueled the people who developed this flagship mission and who hand-crafted the largest spacecraft NASA has sent to explore the solar system. It's what drives humanity to ask the big questions that this mission will contribute to," JPL Director Laurie Leshin said. "Inspiration is riding along with every single name that will be making the journey to Europa."
Stay up to date with all of Mississippi's latest news by signing up for our free newsletter here. 
Copyright 2023 SuperTalk Mississippi Media. All rights reserved.