The birthplace of America's music will soon be getting a new R&B Hall of Fame museum.
A permanent complex featuring the National Rhythm & Blues Hall of Fame (NRBHF) will be built in Marks, MS. This comes after numerous failed attempts over more than 50 years to build a Hall of Fame for R&B icons such as James Brown, Aretha Franklin, B.B. King, and many others.
NRBHF Founder and CEO LaMont Robinson is proud that the first museum solely dedicated to the history and culture of R&B music is finally in the works.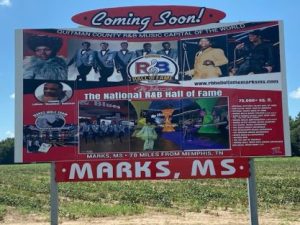 "I have been a long-time activist and advocate for preserving the history of rhythm and blues music and its legends," Robinson said. "There is no other hall of fame in the world that is primarily focused and dedicated to the history of R&B music on a national scale. This project won't just be made up of showcases and photographs on the wall like you would find in a typical hall of fame or museum, but it will be highly interactive, virtual reality, with holograms."
Robinson added that the reason for choosing Marks as the destination for the museum was due to the role the town played in aiding the efforts of the Civil Rights Movement.
"My vision to build a hall of fame to honor R&B and its contributions to civil rights, America, and the entire world is something that I don't take lightly," Robinson said, adding, "R&B goes hand and hand with the Civil Rights Movement, and one of the reasons for choosing Marks is the role that it played in Dr. Martin Luther King's 'Poor People's Campaign."
Five acres of land known as Industrial Park from the City of Marks and Quitman County as well as $500,000 from a state grant have been donated to jump-start this international tourist attraction. The NRBHF has also brought in a few partners to assist with funding and is currently conducting a GoFundMe campaign to help complete this project.
The NRBHF's ground-breaking ceremony will kick off the Annual Mules & Blues Fest on Friday, September 30. It is expected that the museum will take roughly two years to build.
Stay up to date with all of Mississippi's latest news by signing up for our free newsletter here. 
Copyright 2023 SuperTalk Mississippi Media. All rights reserved.