This week, Atmos Energy joined Public Service Commissioners Brandon Presley & Dane Maxwell as well as President Mark Keenum of Mississippi State University, at the Mississippi Horse Park to announce an expansion of natural gas service in the city of Starkville.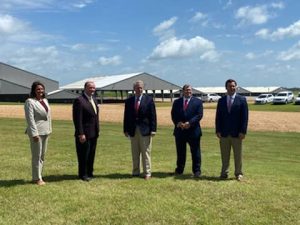 The project is part of Atmos Energy's rural expansion program. Under the direction of the Mississippi Public Service Commission, Atmos Energy has completed 54 projects in 28 communities since the program's inception in 2018. The rural expansion program exists to provide natural gas service to residents that do not currently have access. The Horse Park is a multiuse facility that supports Mississippi State University, Oktibbeha County, and the City of Starkville.
In addition to the positive benefits that this expansion project has for Mississippi State University, there will be significant community impact as natural gas service will be made available to over 50 current residences and another 200 planned homes.
"MSU is extremely appreciative of the efforts of Atmos Energy and the Mississippi Public Service Commission in facilitating this extension of service that will greatly benefit the university, Starkville and Oktibbeha County," said Keenum. "We are particularly grateful to Commissioner Maxwell and Commissioner Presley for their presence here in support of this project. Together, this expansion will be of great value to MSU and the surrounding community for years to come."
"We're excited what this project means for Mississippi State, the City of Starkville and the surrounding area," Chairman Dane Maxwell said. "This is a prime example of how public and private entities can work together as we look to further expand services like this for the future. Since the partnership between Atmos and the Commission began, thousands of Mississippians' lives have been impacted positively through rural expansion projects and cost savings. The Commission looks forward to continuing this work with Atmos to expand services like this across the state."
"This project is a great example of the positive things that can happen when public entities and the private sector work together. Around 50 homes will now have access to natural gas service and the MSU Horse Park will see dramatic cost savings on their energy bills in the near future," said Commissioner Presley. "This project also presents the opportunity for future gas expansion to more than 200 new customers in the area. This project, overall, will benefit Mississippi State University and the residents of Starkville and Oktibbeha County for many years to come."
"This is an exciting day for Atmos Energy, Mississippi State University and Starkville," said Mathew Davidson, Vice President of Rates and Regulatory. "At Atmos Energy, we are continuing to provide safe and reliable natural gas service while expanding our service area. These investments will make this community a better place to live, work, and raise a family in the years ahead. Providing consumers access to a lower-cost energy choice is a win for all."