Legislators capped off a busy weekend at the state capitol in Jackson by unveiling their plans to redraw the House and Senate districts.
In order to account for population changes over the last 10 years while still maintaining the number of majority-Black and majority-white districts, two new districts were created in the Senate and two in the House.
Territory currently represented by Senator Melanie Sojourner, R-Natchez, and Senator Albert Butler, D-Port Gibson, would be combined into a new majority-Black district. There would also be a new majority-white district created in Rankin and Smith Counties.
In the House, districts currently represented by Representative Tommy Reynolds, D-Charleston, and Representative Chris Brown, R-Nettleton, are being absorbed by neighboring districts. New House districts would also be created in Harrison County as well as DeSoto County.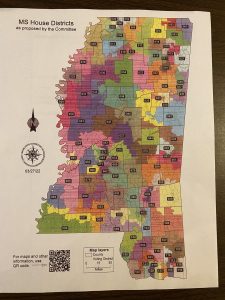 According to Speaker Pro Tempore Jason White, R-West, most House members are content with the map.
"The House, I thought, produced a very good map," White said. "We continued to clean up districts and make them more concise, cutting down on split precincts."
In the other chamber, Senator Chris McDaniel, R-Ellisville, and Sojourner have gone to social media to express their concerns with the plan, blaming Lt. Governor Delbert Hosemann. The two are known as some of the most conservative lawmakers in the Senate, voting the same 93 percent of the time. If the current plan is approved, Sojourner will have an uphill battle in beating out Butler.
Even amid the uproar from McDaniel and Sojourner, White believes this map will be the one to pass.
"I think you'll see it pass," he said.
If it does pass both chambers, since redistricting is done through a resolution rather than a bill, Governor Tate Reeves will not have the power to veto. The Republican governor has previously said that, "any plan that reduces the number of districts where Republicans can compete in favor of more easy Democrat wins should not be proposed—much less approved."
The end of the 2022 regular session is scheduled for April 3.
Stay up to date with all of Mississippi's latest news by signing up for our free newsletter here. 
Copyright 2023 SuperTalk Mississippi Media. All rights reserved.