The Mississippi State Parole Board has a new tool for individuals paroled with felony DUI convictions.
"Currently, anyone the board paroles with a felony DUI conviction will be allowed to drive only with an interlock restricted license," Parole Board Member Jim Cooper said.  "In accordance with state law, persons with three DUI convictions will not be permitted to operate a vehicle unless it is equipped with an ignition interlock device for three years, and for persons with more than three, that number goes up to 10 years."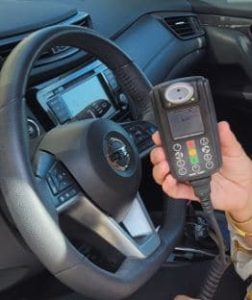 The device connects a motor vehicle ignition system to a breath-alcohol analyzer and prevents the ignition from starting if the driver's blood-alcohol level exceeds the calibrated setting – in this case – .02 percent or greater.
Driving without the ignition interlock device on an interlock restricted license will be considered a parole violation and the parolee will be immediately returned to prison.
The interlock device allows a parolee an opportunity to drive, including to and from work, in a safe manner.
"We want people on parole to have a job to support themselves and their families so they won't return to prison," Cooper said. "And if they are going to drive, it needs to be in a safe manner. This device allows that opportunity with accountability."
This new condition of parole has been implemented through collaboration among the Mississippi Department of Public Safety, the Mississippi Department of Corrections, and the Parole Board.
"It is a big win for the state of Mississippi to give these citizens an opportunity to become productive and establish better habits," Cooper said.
Stay up to date with all of Mississippi's latest news by signing up for our free newsletter here. 
Copyright 2023 SuperTalk Mississippi Media. All rights reserved.