The largest and most popular annual sporting event in the U.S. will feature a taste of Mississippi.
World Class Athletic Surfaces (WCAS), a Leland-based company best known for its eco-friendly paints and painted custom stencils, will have its products displayed on the field during Super Bowl LVII as well as this weekend's AFC and NFC Championship games.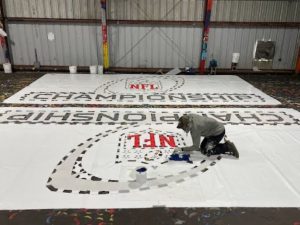 Both the paint and the logos will be going to Kansas City, Kan. (AFC Championship), Pennsylvania, Pa. (NFC Championship), and Glendale, Ariz. (Super Bowl LVII) directly from the Magnolia State.
According to Forbes, the 2022 AFC Championship between the Cincinnati Bengals and the Kansas City Chiefs had 47.9 million viewers. The 2022 NFC Championship between the Los Angeles Rams and the San Fransisco 49ers drew 50.2 million viewers.
The National Football League (NFL) reports that Super Bowl LVI between the Los Angeles Rams and the Cincinnati Bengals had a television audience of 208 million, making it the most watched broadcast in the U.S. and one of the most viewed globally.
WCAS' work will be on the biggest stages in American sports this year. However this is not the first time the Mississippi company's products have been highlighted on a national level. WCAS has worked with the NFL since the company was founded in 1988. Since 2001, the Leland business has supplied all of the paint and stencils for the big game.
"Each year, preparation starts about five weeks before kickoff. World Class Athletic Surfaces will receive the mid-field NFL Shield and quarter field Super Bowl logo's for stencil production. WCAS will then load the final 4 team logos into the system and wait for the results of the AFC and NFC Championship games," WCAS said of their Super Bowl preparation. "Monday morning at 8:00 a.m., the winning teams will be thrust into production and complete by 3 p.m. that very same day. These stencils are 120 feet wide and 22 feet tall. The end zone, midfield, and quarter-field stencils, along with all of the field paint will be shipped by 4 p.m."
Work by WCAS has also been featured at the "Battle for Bristol" between Tennessee and Virginia Tech at the Bristol Motor Speedway, which hosted the largest-ever attendance for a college football game, and numerous Major League Baseball All-Star Games.
Stay up to date with all of Mississippi's latest news by signing up for our free newsletter here. 
Copyright 2023 SuperTalk Mississippi Media. All rights reserved.