Photo credit: Institute for Marine Mammal Studies
NOAA has declared an Unusual Mortality Event for Dolphins. Elevated bottlenose dolphin strandings have been occurring in the Northern Gulf of Mexico including Louisiana, Mississippi, Alabama, and the panhandle of Florida. More than 261 dolphins have stranded since February 1, 2019, which is approximately three times higher than the average.  Of the 260 dolphin deaths, Mississippi saw 121 while Louisiana reported 89, the Florida Panhandle had 37 stranded dolphins, and Alabama saw 32. It is speculated that this could be related to the increase in freshwater from the opening of the spillway.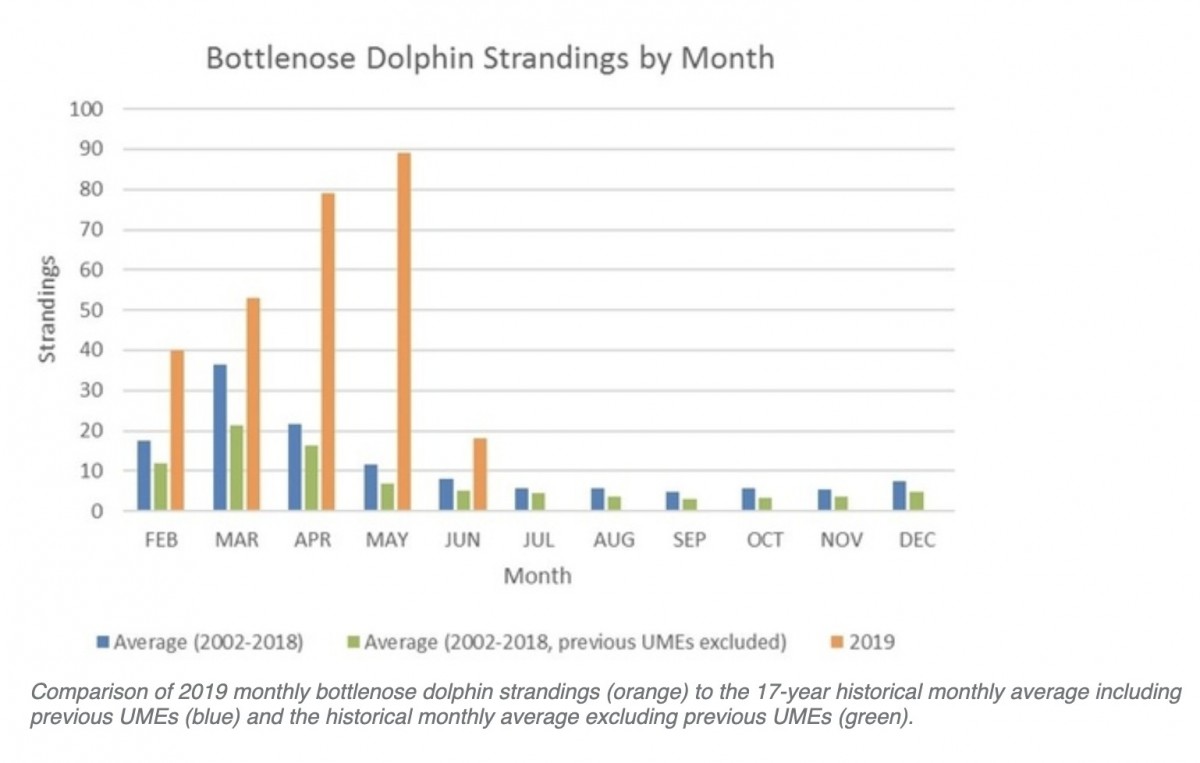 "We are seeing higher numbers in MS and Louisiana," said Dr. Erin Fougères, NOAA Fisheries Southeast Regional Marine Mammal Stranding Program Administrator. "We are concerned about freshwater, it's an exceptionally wet winter and it is the wettest winter in the past 124 years, so there are a lot of freshwater inputs into the Northern Gulf right now just from river drainages and natural inputs as well as the Bonnet Carré Spillway. There is just a lot of freshwater and low salinity in the area right now. We are seeing some animals with freshwater skin lesions and that is one contributing factor that we are looking into right now."
Dr. Teri Rowles, NOAA Fisheries Coordinator of the Marine Mammal Health and Stranding Response Program says it is important to report any dolphin deaths immediately.
Report a Stranded or Floating Dolphin
Members of the public can assist investigators by immediately reporting any sightings of live dolphins in distress or stranded (floating or on the beach) by calling the 24/7 Southeast Marine Mammal Stranding Network at 877-WHALE HELP (877-942-5343). You can contact the U.S. Coast Guard on VHF Channel 16 or use our Dolphin and Whale 911 app on your smartphone. The stranding network will send out trained responders who will get to the scene quickly with appropriate equipment. 
NOAA adds that it is important to remember: All marine mammals are federally protected by the Marine Mammal Protection Act. Only local and state officials and people authorized by NOAA Fisheries may legally handle live and dead marine mammals.
Stay up to date with all of Mississippi's latest news by signing up for our free newsletter here. 
Copyright 2023 SuperTalk Mississippi Media. All rights reserved.