We're less than 24 hours away from college football in Mississippi.
Tomorrow, Ole Miss, Mississippi State and Southern Miss will all take the field for their respective season openers. Below, you'll find a quick preview for each game.
Ole Miss @ Memphis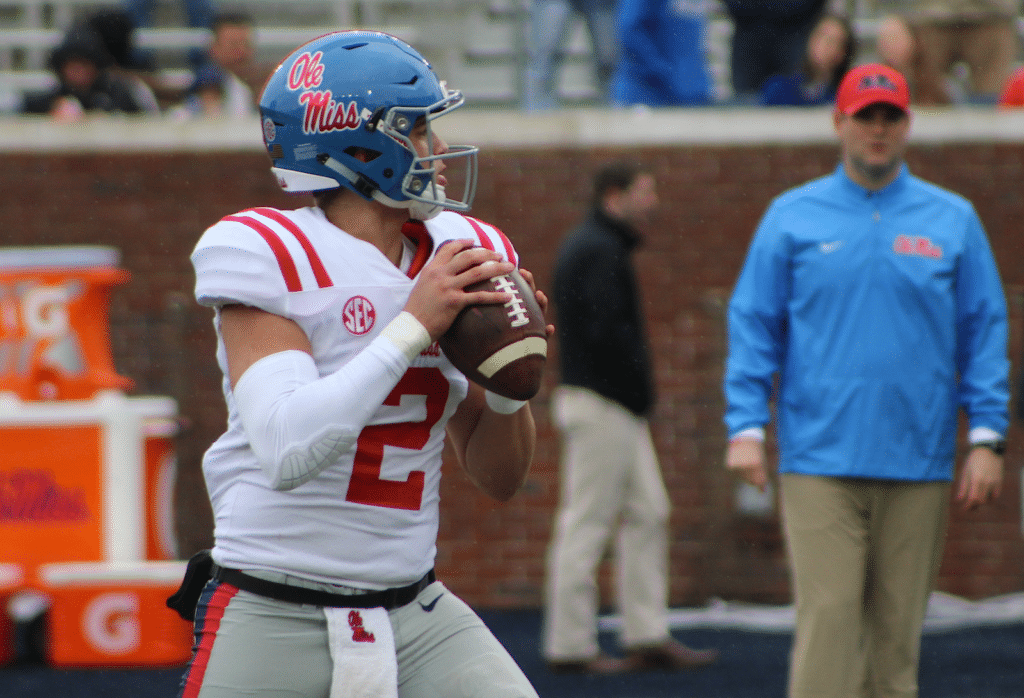 The Rebels are up the road in Memphis and will hope for a better result than the last time they played at the Liberty Bowl – a 37-24 loss in 2015. 
This time around, the Rebels are led by redshirt freshman QB Matt Corral, and he makes his first start behind an offensive line with limited experience. Calling the plays for the Rebel offense is new offensive coordinator Rich Rodriguez. With the departure of WRs A.J. Brown and D.K. Metcalf, the new position of strength for Ole Miss is the RB room, led by Scottie Phillips. Newcomer Jerrion Ealy will also factor in the gameplan along with Isaiah Woullard and Snoop Conner. 
On defense, there's nowhere to go but up for Ole Miss from a season ago, and new DC Mike MacIntyre leads a unit with 8 returning starters against a Memphis offense that lost two of their top players from a season ago to the NFL. Despite the loss of RBs Darrell Henderson and Tony Pollard, the Tigers return QB Brady White and RB Patrick Taylor Jr. in the backfield. Taylor rushed for over 1,100 yards and 16 TDs in 2018, and he faces a Rebel defense that gave up 220 yards per game on the ground last year. 
With a young team, head coach Matt Luke says that camp has been all about getting them ready for this moment. 
"I think any time you have a lot of new players, you find out in the first game. I do think we have had a really good camp. We have had several good scrimmages. That is probably your biggest indicator. When you are out there in the stadium, you see how they are doing when the coaches are off of the field and in the box. I thought the competition has been good and the understanding has been good. Competitions help them learn faster because you have guys pushing you," Luke said.
The Rebels are currently a 4.5-point underdog (according to ESPN). Kick-off is set for 11 a.m. 
Mississippi State vs. Louisiana – Game in New Orleans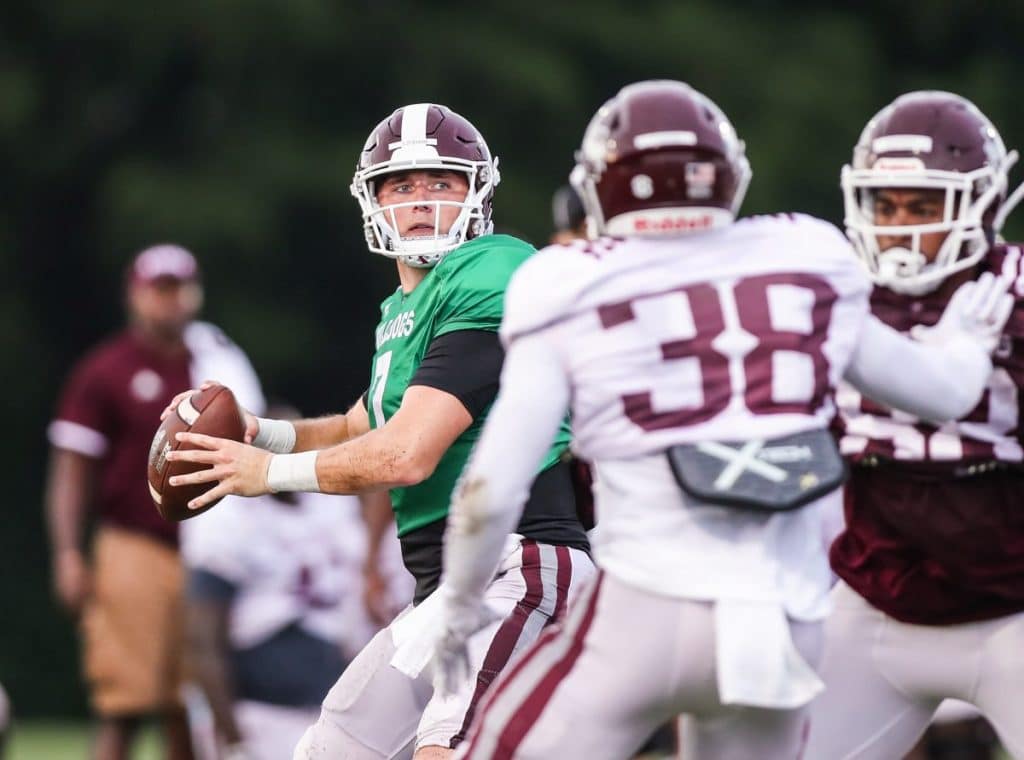 Mississippi State faces Louisiana at the Superdome with grad-transfer Tommy Stevens under center. The QB competition was the talk of camp for the Bulldogs, and 2nd-year head coach Joe Moorhead picked the former Penn State Nittany Lion over Keytaon Thompson. 
Last year with Nick Fitzgerald leading the offense, the Bulldogs struggled through the air and will hope to see an improvement in 2019. With grad-transfer Isaiah Zuber and JUCO transfer JaVonta Payton, Stevens will have weapons to work with on the outside. Joining Stevens in the backfield will be RB Kylin Hill, who is primed for a breakout season after showing flashes last season. 
The Ragin' Cajuns are beginning their second year under head coach Billy Napier, and while the Bulldogs beat Louisiana 56-10 last season, Moorhead said that he expects to see an improved opponent on Saturday. 
"I think having been at a "group of five place" or and FCS school that had the ability to jump up and play some [Division] 1A schools at Fordham. We were fortunate enough to win two of our four games. This is a game where the kids get fired and excited about playing an SEC West team. We are expecting to see their best and like anything from year one to year two is when you see – whether it is a freshman becoming a sophomore or an entire program – you see the most improvement in a program in that year one to year two jump, so I am expecting to see the same from them," Moorhead said.
Defensively, MSU was among the best in the nation in 2018. With the loss of DE Montez Sweat and DL Jeffery Simmons, the unit will look a bit different, but they do get DB Cam Dantzler and LB Erroll Thompson back among several other starters. They'll face a Louisiana offense that returns three RBs that combined to rush for over 2,900 yards in 2018. 
Moorhead stated that any suspensions related to the recently announced NCAA sanctions would not be specifically announced before kickoff, which is at 11:00 a.m. 
Alcorn State vs. Southern Miss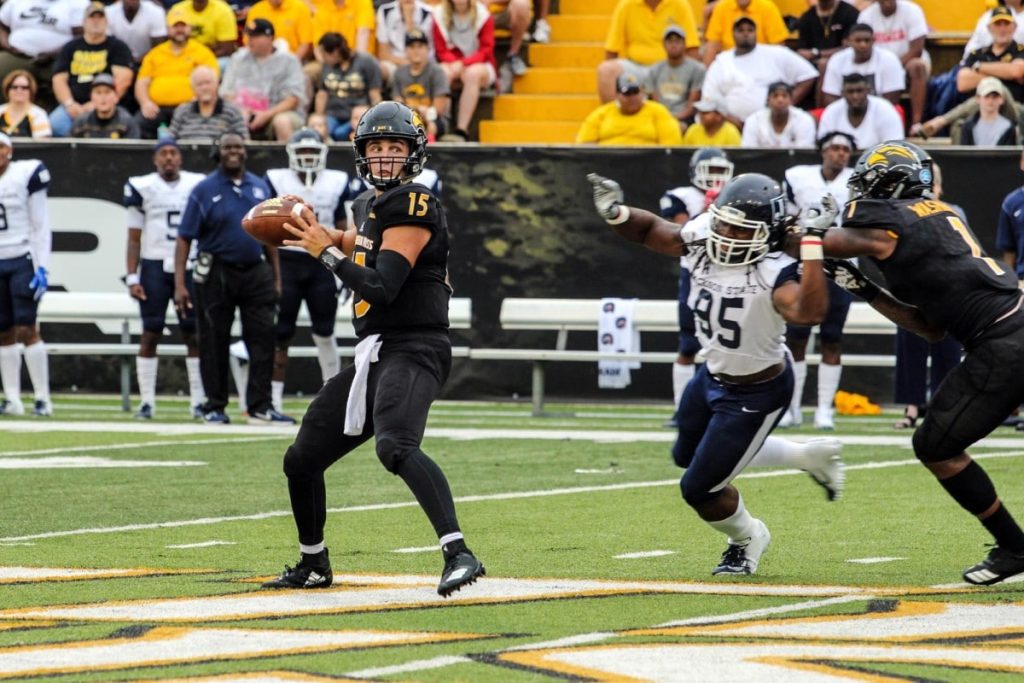 Southern Miss welcomes in-state foe Alcorn State to Hattiesburg for their opener. The Golden Eagles begin year four under head coach Jay Hopson, and he recently named Jack Abraham as his starting QB over Tate Whatley. 
"Jack had a good last year and Tate [Whatley] did too when he came in. It's not like Jack ever did anything to lose the job, but we felt like through spring that Tate had a really good spring and he deserved an opportunity," he explained. "We leave camp feeling like we have two really good quarterbacks that are ready to go. Jack's the starting quarterback, but we understand we have a really good football player in Tate. We've got a plan for Tate. We're excited to have those two guys leading our football team."
While prepping for Alcorn State, Hopson said that the USM defense will have their hands full. 
"They run the ball well and they have a quarterback that can throw the ball. He's a really good dual-threat quarterback. Noah [Johnson] is a young man I recruited four or five years ago, so I know he's a really good football player. I also know he's a guy that can do things with his arm and his legs. Anytime you have a quarterback like that — that type of weapon — you always have concern. They are an athletic football team and we know we've got to bring our a-game," Hopson said. 
Southern Miss was picked to finish second in the Conference USA West Division and had five of its players voted to the league's preseason team including WR Quez Watkins, DB Ky'el Hemby, DLs Demarrio Smith and Jacques Turner and LB Racheem Boothe. The five selections tied for the most in the league heading into the season.
Kick off from M.M. Roberts Stadium is at 6 p.m. 
Stay up to date with all of Mississippi's latest news by signing up for our free newsletter here. 
Copyright 2023 SuperTalk Mississippi Media. All rights reserved.