Researchers at the University of Mississippi are studying the health implications of competitive video gaming. Market research indicates the global esports economy will top $1 billion for the first time in 2019, with an estimated audience of 453.8 million people.
Thomas Andre, an assistant professor of health, exercise science and recreation management, has spent most of his career focusing on fitness, exercise, and nutrition. With the rapid expansion of the esports world, he recently began conducting groundbreaking research on the effects of playing competitive video games on the human body.
Inspired by his own experiences with online gaming, Andre started his research when he began to notice differences in his own body.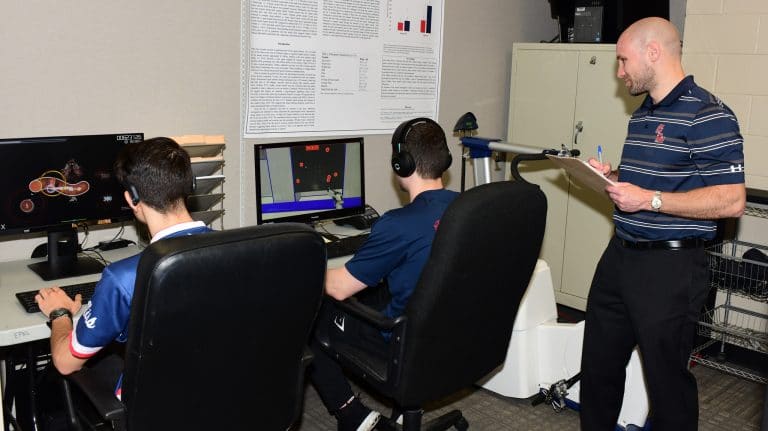 "It was just a little bit of a side hobby, as a way to stay in touch with these guys I did undergrad with, playing video games online," Andre said. "I started noticing what was happening to my own body, like poor sleep, elevated heart rate; I could feel myself not blinking as much, my breathing would get shallow. We started thinking, 'Oh let's start looking into this,' as the industry has been growing."
Andre enlisted the help of student researchers Gunner Rhoden, of Belzoni, a senior in the Sally McDonnell Barksdale Honors College majoring in biochemistry and member of the Ole Miss Overwatch esports team, along with second-year master's student Silvio Valladao, of Rio de Janeiro, Brazil, and senior exercise science major Damon Cox, of Pontotoc. All three students share Andre's research interests and affinity for competitive gaming.
Their work focused on measuring the heart rates of the Ole Miss Esports team while playing six different video games: "Overwatch," "Call of Duty," "Counter-Strike: Global Offensive," "Rocket League," "Rainbow Six Siege" and "Super Smash Bros." These games were played competitively at the inaugural Esports Egg Bowl in October 2018, where, for the first time, the research team monitored competing collegiate players in a live local area network tournament.
The group presented their research at this year's American College of Sports Medicine annual conference. They focused on using heart rate variability values to determine how the sympathetic and parasympathetic nervous systems were activated within the body.
"A lot of people at the conference were kind of fascinated by how it mimicked traditional exercise," Rhoden said. "Your body is not doing a lot of motions or anything; you're just playing with a mouse and a keyboard, or a controller, but it still taxes your physical form."
The results showed that players of these video games had similar accelerated heart rates and recovery periods as competing athletes under physical stress.
"These guys are only playing for maybe 30 minutes and the peak heart rate is like doing a max test," Andre said. "The heart rate response is similar to what we see in all-out aerobic fitness assessment where heart rates are hitting 190, 200, and we saw that with these guys sitting while they are playing. So, there is a clear stress response. We hadn't seen anything in the literature on it, so that was exciting."
The esports industry is opening a new world of career opportunities for students, Andre said. With stadiums being built in major cities, such as Philadelphia's new Comcast Esports Arena, opportunities are opening for professionals in sports and recreation administration.
The field also is creating new opportunities for medical professionals, athletic trainers, exercise physiologists, sports psychologists and strength coaches to help maintain the overall health of players.
The industry has grown so quickly that little research has been conducted on the sport's effect on the human body, Andre said.
"There are a lot of injuries – wrist, neck and hand injuries, some muscular forearm extensor and flexors – so eventually, as it grows, people are beginning to realize it's not just 'sit down and play,'" he said. "It has a lot more to it."
Stay up to date with all of Mississippi's latest news by signing up for our free newsletter here. 
Copyright 2023 SuperTalk Mississippi Media. All rights reserved.