The One Coast Awards were held earlier this week to highlight community leaders across the coast.
As explained on the One Coast Website: "The One Coast Awards were created to continue the ideal that One Coast is a regional belief that our common interests far outweigh any differences; an awareness that what benefits one, ultimately benefits all; a celebration of our unique communities and an attitude of no boundaries."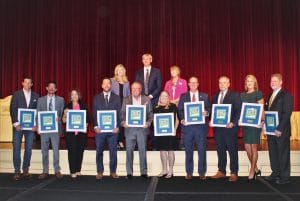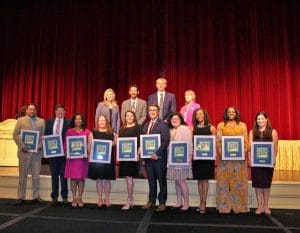 List of winners: (If on phone turn horizontal)
2022 One Coast Community Leader winners

Title
First Name
Last Name
Company

Mr.

Brandon

Elliott

Elliott Homes

Mr.

Guy

Johnson

Coast Electric Power Association

Ms.

Leslie

Kelley

Community Bank

Ms.

Pam

Moeller

The University of Southern Mississippi

Mr.

Charlie

Oakes

Sparklight Gulfport & Long Beach

Mr.

Leonard

Papania

City of Gulfport

Mr.

Crosby

Parker

District Attorney's Office 2nd Circuit Court District

Mr.

Sam

Sandoz

Hancock Whitney

Mr.

Michael

Sunderman

M2Media

Ms.

Bridget

Turan

Gulf Coast HUB
2022 One Coast Top 10 Under 40 winners

Title

First Name

Last Name

Company

Ms.

Kimberly

Aguillard

Huntington Ingalls Industries

Dr.

Racheal

Butler

Coastal Family Health Center

Mr.

Jeffery

Ellis

Ingalls Shipbuilding

Senator

Jeremy

England

State Senator, Mississippi District 51

Ms.

Shyra

Galloway

EXIT Monarch Realty

Ms.

Brandi

Hough

Harrison County Development Commission

Ms.

Kendra

McArthur

Silver Slipper Casino Hotel

Ms.

Nicole

Miller Martz

IP Casino Resort Spa

Mr.

Jase

Payne

City of Gulfport

Ms.

Lauren

Santa Cruz

Hancock Whitney
Adele Lyons, CEO of the Mississippi Gulf Coast Chamber joined Ricky Mathews on Coast Vue to reflect on each winner of the 2022 One Coast Awards and how the Chambers come together in deciding the winners.
Our own Ricky Mathews, host of Coast Vue and SuperTalk Outdoors was given the great honor of opening the awards this year with a video done by Tim Wall of Coast Project Media.
"Congratulations to all of the One Coast Leadership Awards winners announced and celebrated this morning.
When I worked with my team at the Sun Herald after I became president and publisher in 2001 to create a Coastal Mississippi leadership program in honor of my predecessor and mentor Roland Weeks, I never could have imagined that 20 years later I'd be retired and doing a SuperTalk radio show/podcast called Coast Vue focused on Coastal Mississippi and giving the welcome speech to the 2022 One Coast Leadership Awards breakfast at the Beau Rivage. Time flies.
The video is something I worked with producer Tim Wall of Coast Project Media to put together. It gives a look into my Coast Vue journey and it makes some important points about how we succeed as a region," – Ricky Mathews.
Here is Ricky's speech that was given at the 2022 One Coast awards:
"We all have to do more reps. I came out of retirement to do more reps with Coast Vue. So many conversations. All of them loaded with vision and lessons and sage advice. By people who have worked in the trenches, working their tails off to make this a better place to live, work and play. Over 600 Coast Vue conversations over the past couple of years. It has been an inspiring journey for me.
I hope you are learning with me what it takes to build a great region. I believe we live in paradise. Our potential is truly unlimited. As I look around this room, I see incredible talent and ambition here this morning. Bankers, mayors, entrepreneurs, lawyers, local and county elected leaders… small business owners and corporate leaders. You and the people you associate with represent the lions share of those who can and will help us dream bigger for Coastal Mississippi.
But we must get better at fighting ever-present challenges that work overtime to hold regions like ours back. From my years of doing this across multiple states, here are three significant challenges I believe can hold us back if we aren't focused and willing to expect… and work… for more.
Number one: There is a serious gravity toward mediocrity in most communities and regions. We are not immune to this gravity. Too many people work too hard to protect the status quo. We've got to expect more of ourselves and elected officials. To win, there has be trajectory. There is no trajectory in mediocrity.
Number two: as Jerry St. Pe' pointed out in the video, our biggest enemy is complacency. It keeps us from dreaming bigger and it zaps our collective energy as a region. Those regions across the southeast that hope to beat us… they pray for our complacency. And lastly, we don't have enough leaders who get it… most communities don't. We need more leaders who see what is possible… that covet our potential… and who understand that we are a collection of communities that come together to create a powerful region with common goals.
That's why leadership development is so important. What I have experienced on Coast Vue gives me hope… we are so lucky to have the leaders we have…. You know who you are. You are contributing selflessly and tirelessly and with dogged determination. Everyone in this room has a bigger role to play. No matter where we are in our lives, as John Hairston urged us, we all have to do our reps… That's it. Three big-time challenges. But with leadership commitment, focus and hard work we can overcome these challenges and achieve things for Coastal Mississippi beyond our wildest imagination. I want to thank the Bacot McCarty foundation's long-standing commitment to leadership development across the coast and for asking me to welcome you here today. Congratulations to all of the nominees and the winners. You all stand as examples to others.
So celebrate in this moment… You all deserve to take in the Coast Vue, but I urge you to find the time to dream bigger for Coastal Mississippi. That's what this morning is really all about. We all need each other. Big time. Congratulations and God bless you."
Stay up to date with all of Mississippi's latest news by signing up for our free newsletter here. 
Copyright 2023 SuperTalk Mississippi Media. All rights reserved.