Republican incumbent Brent Bailey is calling for the examination of the ballot boxes from the general election nearly one week after Democrat De'Keither Stamps was declared the winner.
The outgoing public service commissioner for Mississippi's central district received a little over 2,000 votes less than his opponent, according to the 97 percent of ballots that had been counted when the Associated Press called the election on Tuesday, November 14.
Four days later, Bailey sent a letter to Stamps notifying the former state representative that he would be conducting an examination of the ballot boxes, election materials, poll records, and any related items from the general election.
"Such examination will be conducted as allowed by MS Code §23-15-911 in the offices of the various Circuit Clerks of the district or at a location to be determined by the Clerks," Bailey wrote. "The ballot box examinations will be conducted on a date mutually arranged with the various Circuit Clerks."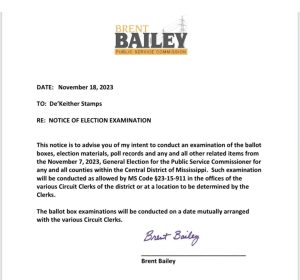 According to Mississippi law, candidates have the right to a full examination of the ballot box and its contents up to 12 days after being reviewed by the county election commission and delivered to the circuit clerk.
Stamps issued his response to Bailey's request shortly after, stating that he does not believe that a reexamination would change the results of the election.
"Countywide ballot box inspections impose heavy work on the circuit clerk and deputies," Stamps explained in the letter. "I truly wish you would reconsider this expensive and burdensome muti-county undertaking."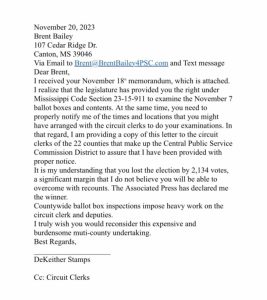 The newly elected commissioner added that he is "disappointed" in Bailey's decision to call for an examination of the ballot box and that they should be working towards a seamless transition.
"We should be sitting down, having a beer, and sorting this thing out and figuring out what is best to move Mississippi forward," Stamps said. "We should be going through that process to see what are the issues and working through how to make sure that nothing slips through the cracks as we transition."
Bailey has since confirmed to SuperTalk Mississippi News that his main priority through the process is to ensure all state laws were upheld during the counting of the ballots, as well as to make sure that the voices of voters throughout the district were accurately heard.
The outgoing commissioner also alleged that he had not received Stamps' notice via email or text message.
Stay up to date with all of Mississippi's latest news by signing up for our free newsletter here. 
Copyright 2023 SuperTalk Mississippi Media. All rights reserved.