Story provided by the Heisman High School Scholarship
---
Dia Chawla is just one of 5,000 students in the nation to achieve a perfect 36 on her ACT which was the culmination of years of hard work. However, Dia realized she had an advantage that many do not in the form of expensive books and tutoring.
She lives in an area that is highly segregated with many impoverished students. So, she began an ACT Preparation class with seven African American students from a nearby public school. Based on the success, she invited seven students from her own school to join the class, thus founding the ACT Diversity Preparation Club. Chawla said, "For the first time in decades in my town, there was an intermingling of races in a classroom. All 14 of my students saw improvements in their ACT scores; more importantly, they saw improvement in their outlook. I realized through this class that I was not just the teacher; rather, I was the student, learning about the beauty of acceptance of all people."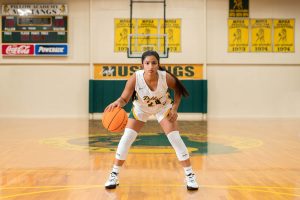 Dia, herself, has been on the receiving end of non-acceptance. Because she always focused on academics at the encouragement of her parents, in elementary school, she was the target of mocking for her lack of athletic skill. "During recess and PE, the kids would pick teammates and I was always the last girl selected. My confidence was shot, and I struggled in all sports," said Chawla.
She resolved to change the game and began watching every sports video she could find on YouTube and taking on her older brother in backyard competitions. She said, "I took a beating, but the hard work ethic I derived from these embarrassing moments lit a fire under my belly."
Dia turned that fire into victory in multiple sports. She became a varsity starter on the tennis team in sixth grade and has since won a state title. She led her basketball team in free throw percentage her junior year and secured a spot as a key reserve on the 2020 Academy High School basketball state championship team. She captained the state championship dance team and has won 12 individual first place and high scores in Mid-South regional competitive dance.
These experiences have taught Dia that winning isn't about where you come from; it's about the hard work you're willing to put in. Still, she recognizes that not everyone has the same opportunities to excel. Through her volunteer work with organizations like the Boys and Girls Club and a local rural hospital, she's become keenly aware of the inequities that exist in her own community, and she has made it her mission to do her part to change that. She plans to study pre-medicine and public policy so she can put herself in a position to continue making a difference and ensuring everyone has the chance to realize their potential.
Stay up to date with all of Mississippi's latest news by signing up for our free newsletter here. 
Copyright 2023 SuperTalk Mississippi Media. All rights reserved.