Mississippi Baptist Medical Center is set to welcome eight students from New Summit School, who will begin Project SEARCH internships at the hospital. 
Project SEARCH is a national program, and this internship program at the medical center was formed in partnership with the Mississippi Department of Rehabilitation Services to give special needs students the chance to obtain competitive, community-based employment.
The 18-21-year-old students will spend nine months at the hospital working in 11 departments. Among others, they'll rotate between departments such as daycare, radiology, sterilization, corporate communications and compliance, the healthplex, occupational therapy, and environmental services. At the end of the nine-month program, the goal is for the students to get a full-time job with the hospital. 
On a daily basis, students will work with on-site job coaches and teachers at the hospital as they progress through the internship. Stephanie Cockrill is the lead instructor for Project SEARCH, and she has been working with the students over the last two years to prepare them for the program. When the work starts, she wants everyone to see that these students are prepared for the challenge. 
"I hope other people see the same thing that I see; that these students have so many gifts, so many talents, and there are so many more things that they can do than things they can't do," she said. 
One of the students that will take part in the program is senior Semaj Jefferson, who'll start the internship in the environmental services department. 
"Summer vacation was great, but it's time to get to work," he said.
Secretary of State Delbert Hosemann spoke during today's ceremony and discussed how programs like Project SEARCH give students with disabilities the tools they need to have a successful future. 
"What we're going to do as a state is work on pre-K that will catch autistic children at an earlier age and that will give them the opportunity to be better educated. We're also teaching our teachers how to deal with students with special needs. They do a great job, and we're offering courses to help them continue to learn. But as they spoke to us, they would ask; 'is there a future for these students?' Mississippi Baptist Hospital and this program are giving them a future," he said.
Hosemann said the program gives the students a chance to learn job skills, and he wants to see the program expand in Mississippi. 
"We want them to have a meaningful, natural future and live a life with the same opportunities as everyone else. You will see us press this with other employers across the state. Employers want somebody who'll come to work every day. They want somebody who'll stay with them and they want somebody who can do the job. These young men and women can do that," Hosemann stated.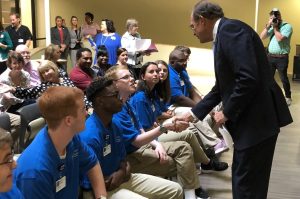 New Summit and Baptist Memorial represent one of 5 Project SEARCH partnerships across the state. Last year, there was only one, so the program is growing quickly. Last year, the lone partnership was between the Rankin County School District & UMMC. The UMMC partnership is entering its second year, and year one had a 100% job placement rate for the 9 students involved. 
"These young adults have such a desire to learn these job skills and to be a part of something big, like Baptist, and it not only changes their lives, it changes our lives too," said Chris Howard, executive director of the MDRS. 
Howard stated that they have also added sites in Tupelo, Laurel, Hattiesburg, and are hoping to add 7 more sites by next year.
Stay up to date with all of Mississippi's latest news by signing up for our free newsletter here. 
Copyright 2023 SuperTalk Mississippi Media. All rights reserved.