It can't change the final result, but a statement from the SEC confirms that the officiating crew botched the call on a game-changing play late in the 4th quarter of Mississippi State's loss to Memphis. 
With the Tigers leading 21-17, the Bulldogs were forced to punt with 5:58 left in the contest. 
After two members of the Mississippi State punt team touched the ball, Memphis return man Calvin Austin III picked it up and returned it for a 94-yard touchdown. 
WHAT CAN'T @CalvinAustinIII DO?!?
(that's rhetorical because there's nothing he can't do"#AmericanPow6r pic.twitter.com/NNstgGaKWK

— American Football (@American_FB) September 18, 2021
While Austin's action is allowed because the ball wasn't fully possessed by Mississippi State, the conference's statement confirms that the back judge began to blow the play dead, which is reviewable, and that two Tigers were wearing the same number on the field during the play.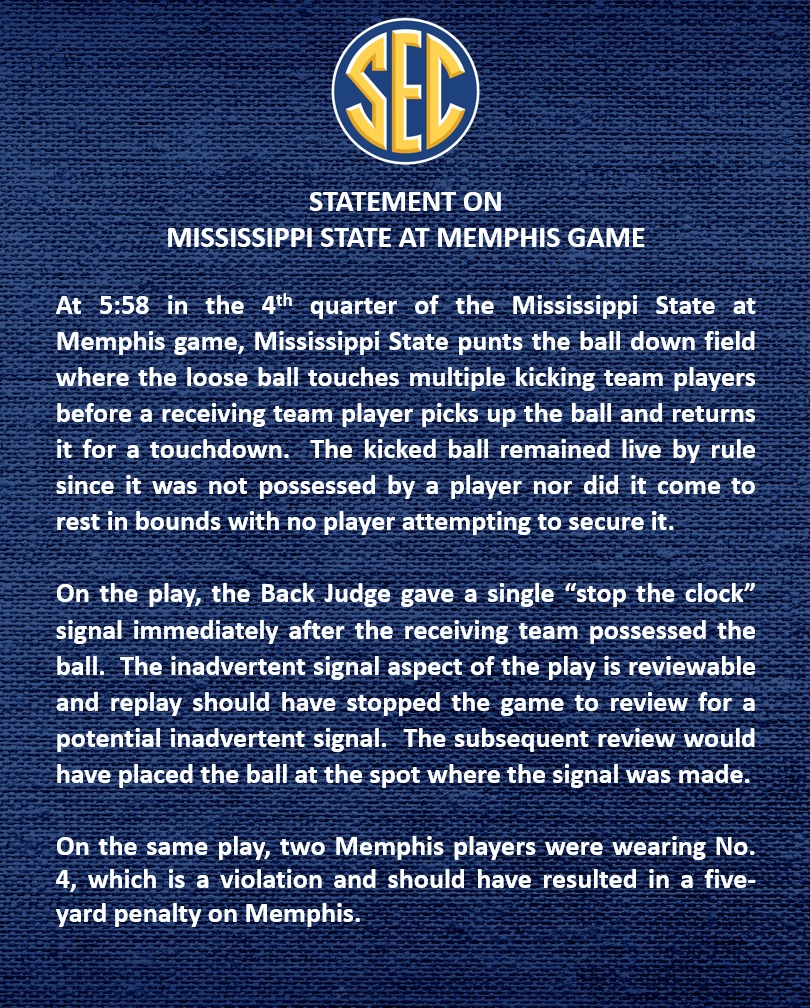 After the game, head coach Mike Leach was asked about the play and put it on his players to leave no doubt that the play is over. 
"Well, I mean the ball is live. Just because you touch it, usually they whistle it. We've got to pick it up and hand it to the referee," he said. 
This wasn't the only questionable officiating that went against the Bulldogs as they fought back from the 28-17 deficit created by the punt return touchdown. Mississippi State was able to strike for a quick score of their own before seemingly recovering an onside kick. After a lengthy review, however, the refs called an illegal block on a member of the Mississippi State kickoff team. 
Speaking on that call, Leach was hesitant to engage saying, "I have to decide how much money I want to spend before answering that."
The Bulldogs would reach the end zone again before the final whistle, but came up just short on a 2 point conversion and the Tigers recovered the ensuring onside kick. 
A 31-29 loss drops Mississippi State to 2-1 on the season as they prepare to open conference play against LSU next Saturday in Starkville.