Mississippi Senator Jeremy England has raised thousands of dollars in support of the American Cancer Society after a photo of the lawmakers in a pink outfit went viral on social media.
The photo — which shows the senator with pink-colored hair dressed in a pink jumpsuit and skirt — resurfaced last week after he announced his support for incumbent Lieutenant Governor Delbert Hosemann's campaign in a television advertisement.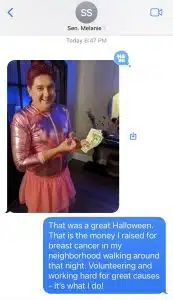 England received a text message from Senator Melanie Sojourner containing the picture shortly after the advertisement's release, to which he replied with an explanation that the outfit was part of a fundraising competition he held in his neighborhood on Halloween in 2020.
"That was a great Halloween. That is the money I raised for breast cancer in my neighborhood walking around that night," England stated in a screenshot of the text conversation. "Volunteering and working hard for great causes – it's what I do!"
According to England, approximately $300 was collected from individuals located throughout his neighborhood that night, with the photo's resurfacing inspiring the legislator to begin raising money for breast cancer awareness once again.
"I've been able to raise a lot of money now since this picture came out for breast cancer awareness and the reason I have been able to do it is because people are tired of these dirty politics," England explained during an interview on The Gallo Show. "We're tired of the divisiveness that Senator (Chris) McDaniel is spewing."
McDaniel, who is also vying for the position of lieutenant governor in the upcoming primary election, has been accused of taking jabs at Hosemann throughout his campaign, with one of the latest advertisements stating that Hosemann is pro-abortion due to his history working at a women's clinic in south Jackson.
Since then, Hosemann has called McDaniel "a pathological liar and a coward," with England — a former McDaniel supporter — taking the incumbent's side on social media.
"In the ad, I explain how I supported Chris McDaniel in 2014 – but I would never support him again after learning the type of person he is. He is all talk. He is weak and ineffective," England said. "Now, I am receiving threats and am being bullied. Or at least that is the idea – but I'm bigger than that."
At this time, England's fundraiser through Real Men Wear Pink has raised over $6,000 in less than a week. England has since stated that he is hoping to reach a goal of $10,000 to support the American Cancer Society's fight against breast cancer.
Stay up to date with all of Mississippi's latest news by signing up for our free newsletter here. 
Copyright 2023 SuperTalk Mississippi Media. All rights reserved.